Battleborn's First 14 Minute Video Has All The Genres
We're definitely post-genre now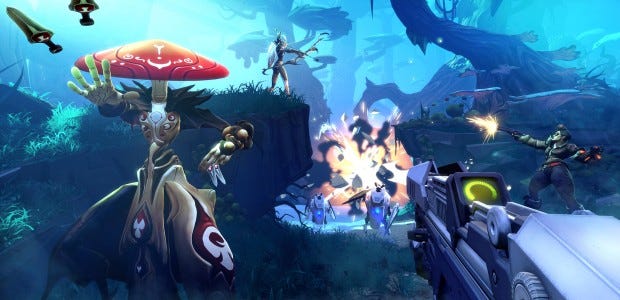 I briefly dismissed Battleborn as a console game that didn't belong on these pages, before realising, no, wait, that's Bloodborne. Battleborn is instead Gearbox's multiplayer first-person shooter that takes easy co-op and a cartoon-y world reminiscent of Borderlands' and combines it with lessons from e-sports, MOBAs and MMOs. They call it a "hero-shooter", but what the heck does that even mean.
There's fourteen-minutes of the game in action below, which does a better job of explaining what it really is.
Gosh, it's colourful, isn't it? Obviously Gearbox learned the power of a good, cartoon-ish art style after Borderlands, but I don't think I realised how many pinks and purples Battleborn was going to have. I think my interest in the game - admittedly small to begin with - doubled at the sight of it all. Also I like that the circling spaceship looks like a metallic fish.
I am unsold on the combat, though. You know what I hate? Waves of things. Even small enemies seem to soak up lots of bullets before falling, and none of the various special attacks seem to connect with their targets in a meaningful way.
Of course, if you're still confused about what Battleborn is, as always you can turn to this tweet by Gearbox's Randy Pitchford.
Battleborn is: FPS; hobby-grade coop campaign; genre-blended, multi-mode competitive e-sports; meta-growth, choice + epic Battleborn Heroes!

— Randy Pitchford (@DuvalMagic) July 8, 2014