Battlefield 1 and Battlefield 4 receive another supply drop of giveaway DLC
Aces high, but no need to ante up.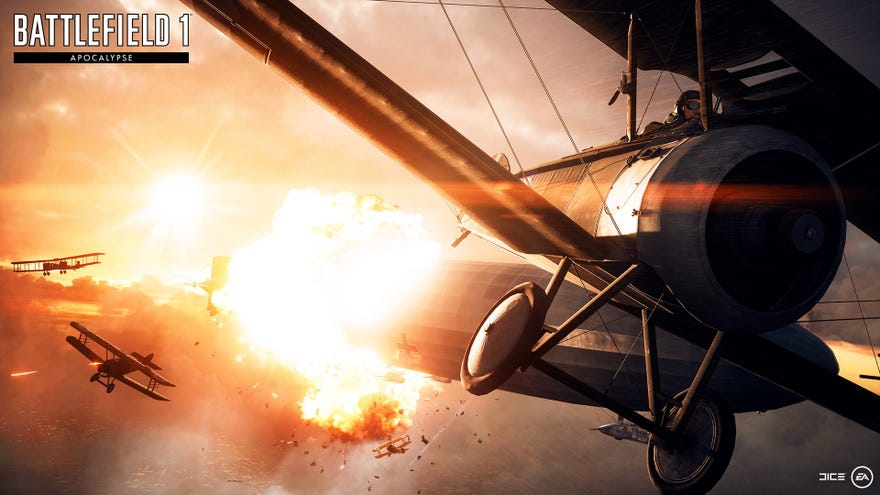 Ever since EA announced that season passes were on the way out, they've been showering the (still very active) Battlefield 1 & Battlefield 4 communities with giveaways of premium-priced DLC, for those who haven't taken the plunge yet. Accompanying Battlefield 1's Summer Update (mostly balance tweaks and quality-of-life improvements, according to the patch notes) comes a triple giveaway. BF1 players can pick up the game's final expansion - Apocalypse - free, while BF4 players can snag the Naval Strike and China Rising DLC, all until August 7th.
The Apocalypse expansion for Battlefield 1 doubles down on the messy, meatgrinder style of play that the game became so well known for. Set across some of the messiest conflicts of World War 1, including Passchendaele, Caporetto and the River Somme. For those who'd rather stay above the blood and muck, it also introduces the new Air Assault mode, an arcadey air combat scenario with a couple maps of its own. It also introduces some new weapons, the most notable of which is the Assault class's anti-air rocket gun.
The Battlefield 4 expansions, Naval Strike and China Rising both focus on large-scale vehicular war. Naval Strike suggests that T-Pain was right, and that everyone would be happier on a boat. Jumbo-sized ocean map Nansha Strike puts most players in seafaring vehicles, although there's lots of mounted coastal weapons for infantry to use, too. China Rising mostly keeps on dry ground, but across still enormous maps. Planes, dirtbikes, choppers and plenty of tanks abound here. While there's some fun new drone tech, it's hard not to feel a bit naked when you're on foot.
While ostensibly these giveaways are to drum up interest in the series as a whole in the run-up to Battlefield 5's launch on October 19th, this'll likely ensure that BF1 and BF4 remain well populated for quite some time to come. I don't think anyone will have trouble finding a full 64-player server this side of 2020, at least.
You can add Apocalypse, Naval Strike and China Rising to your Orgin account until August 7th, free to keep forever even if you don't own the games.