Battlefield: Bad Company 2 (and 1 and BF1943) will be removed from sale next month
Online modes will end in December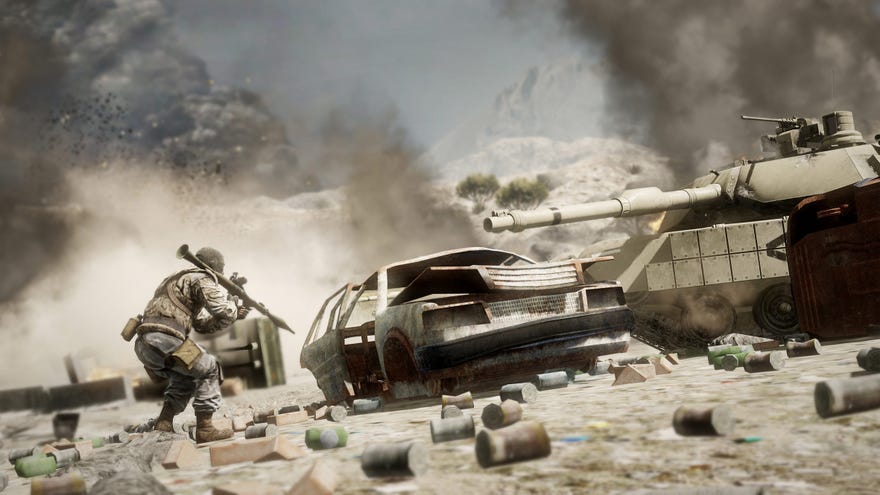 EA are removing Battlefield 1943 and Bad Company 1 & 2 from sale on April 28th, and closing down online services for all three on December 8th, 2023. If you already own copies of the games you'll still be able to play their offline features, such as Bad Company 2's beloved singleplayer campaign.
Of the three, only Bad Company 2 was released on PC, which is fine because it was the best one.
EA announced the news via the Battlefield site, taking a moment to reflect on each game. And they do mean "a moment", given that they've written just a scant few sentences describing each game, like I do when I round out a news story by paraphrasing from a Wikipedia article about a game I've never played.
I played Bad Company 2 for hundreds of hours though, with most of it spent sneaking down the slope into the village in Rush mode Valparaiso. I will never forget the joy of that little x appearing over my crosshairs upon successfully shooting an unseen enemy through a thin wall or bush. Jim (RPS in peace) liked it a lot back when too, flaws and all.
Many more people seemed to love Bad Company 2 specifically for its singleplayer mode, which continued the Vietnam war story with the same four characters as Bad Company 1. Given that these were the first Battlefields to have a story campaign, and that they were well liked, it seems a shame that they're now being removed from sale entirely.
An earlier version of EA's announcement post also announced that Mirror's Edge would likewise be delisted from sale. That seemed even madder, given that Mirror's Edge's only online component are some time trial mode leaderboards. EA have updated the post to remove any mentioned of Mirror's Edge and tweeted to say that this was "an error", and that they have no plans to remove Mirror's Edge from digital stores. One wonders if it was only an "error" after people on the internet got real mad at them about it, mind you.
Battlefield 1943 seems like the less loved of all these games. I never played it, but it's an online multiplayer World War II first-person shooter video game developed by DICE for Xbox 360 and PlayStation 3 and released solely through digital stores.