Battlefield 1942 Confirmed Among EA's GameSpy Casualties
24 games losing official multiplayer support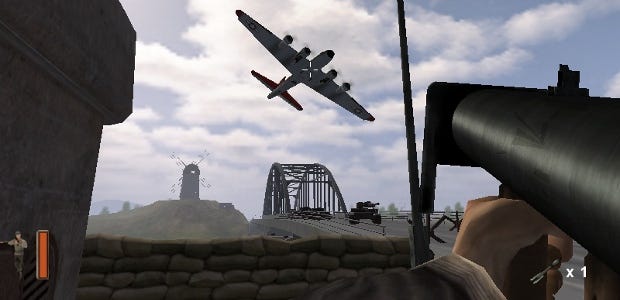 With the shutdown of GameSpy multiplayer services looming at the end of the month, EA have revealed quite what they plan to do. Not much, really. 24 games, including Battlefields 1942 through 2142, Star Wars: Battlefront, the two Neverwinter Nights, and a few Command & Conquers, will lose official online multiplayer and services support when GameSpy goes away. Unofficial tools and ways will keep some of them playable still, but not at all of them.
Here's the PC list of casualties:
Battlefield 1942
Battlefield 2
Battlefield 2142
Battlefield Vietnam
Command & Conquer 3: Tiberium Wars
Command & Conquer: Generals
Command & Conquer: Red Alert 3
Crysis
Crysis 2
Crysis Wars
EA Sports 06
F1 2002
Global Operations
James Bond: Nightfire
Master of Orion III
Medal of Honor: Allied Assault
NASCAR Sim Racing
NASCAR Thunder 2003
NASCAR Thunder 2004
Need for Speed: Hot Pursuit 2
Neverwinter Nights
Neverwinter Nights 2
Star Wars: Battlefront
Star Wars: Battlefront II
"Since GameSpy's announcement, our teams have been working to evaluate options to keep services up and running. Unfortunately, due to technical challenges and concerns about the player experience, we do not have a solution at this time," EA say in the announcement. They do hint that they "are still investigating community-supported options to preserve online functionality," but they say "significant technical hurdles remain" and won't confirm anything.
No official multiplayer means people will need to hit the underground, sneaking through dark digital corridors. A number of the affected will still work if players use tools like GameRanger, which supports a fair few of the affected, and the likes of Hamachi can connect players in games with LAN support.
Those which aren't supported by GameRanger and don't have LAN play, including Crysis 2, will seemingly be dead. While I don't particularly imagine many are still playing Crysis 2, it did only come out three years ago. And, you know, digital conservation and all that.