Flying Cathedrals Galore In First Battlefleet Gothic Trailer
Slap on your crotchskull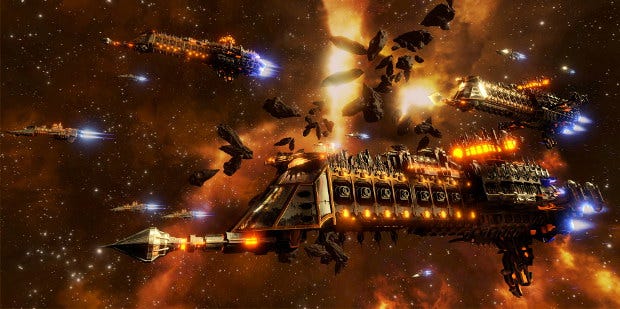 The first trailer for Battlefleet Gothic: Armada [official site] shows pretty much just a load of flying cathedrals blasting through space while dramatic orchestral music plays, but I don't know what else you'd expect from a game about flying cathedrals fighting other huge spaceships.
Adam has seen the game in action but you and I, for now we only get displays of stained glass, arches, flying butresses, and cannons larger than churches. Which is about what I'd expect from an adaptation of a Warhammer 40,0000 spin-off wargame, really.
I can tell you: yes, those sure are some nice space cathedrals forming up for real-time strategy naval battles. Adam, however, he can tell you things like:
"How does a dynamic campaign including possible Exterminatus orders on planets that fall under enemy control sound? How about captains with skills that develop over time and personalities that can lead them to disobey orders? Of course, this being the grImperium, anyone showing disobedience to a superior's commands can be executed, restoring order. The chain of events that can lead to an individual execution or a planetwide Exterminatus seem like they're key to an understanding of the game Tindalos are hoping to make. Armada isn't aiming to be a direct digital adaptation of the Battlefleet rules but it won't be a linear RTS wearing borrowed insignia and uniform from a popular mythology."
Which is certainly more informative than any of my muttering.
Battlefleet Gothic: Armada is being made by Tindalos Interactive, the French studio behind Stellar Impact and Etherium. No word on a release date yet.