Space Marines Invade Battlefleet Gothic: Armada Today
For the Emperor!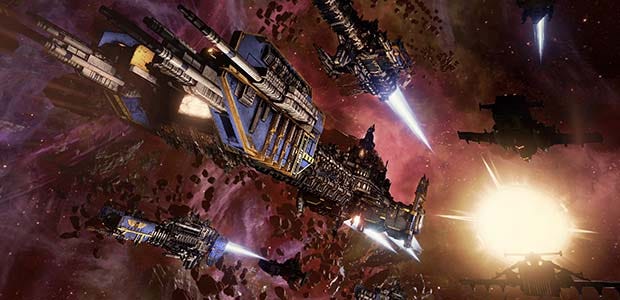 As if space strategy Battlefleet Gothic: Armada [official site] wasn't grim enough, Space Marines will be entering the orbital fray today. In addition to the Tau, which should be added to Battlefleet sometime later, both races are available for free to people who already own the game or who buy it before the end of the day. They'll then be available thereafter as extra DLC for everyone else.
The Space Marines are a tough-as-nails faction that specialise in close-ranged battles using well-armored ships. They have two unique faction traits: one that makes them immune to insubordination techniques (as if anyone would be crazy enough to disobey them in the first place) and another that lets them prioritise attacks on different subsystems when boarding enemy vessels. You can get a brief introduction to them through the trailer below. The new faction won't have a new campaign tied to it, but you're free to use them in any other mode including skirmishes or co-op.
Daniel Starkey popped his beautiful head into Battlefleet Gothic for us a few months back and really enjoyed what he saw. If you don't already own the game and aren't yet willing to spring the cash, the Space Marines faction will set you back $7.99/€6,99 (around £5.42, so probably £5.99) after that early adoption offer ends today.