Grand Theft Auto BBC Drama Hit With Take Two Lawsuit
Roll on Barry Bungalow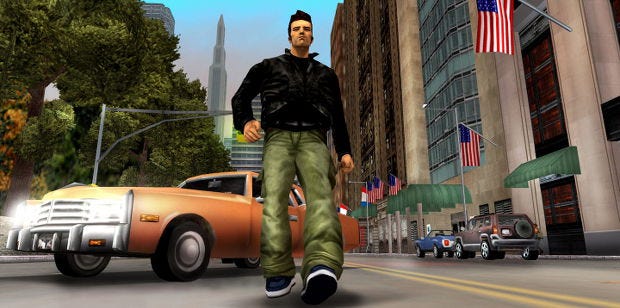 Our Graham was the one to post about the BBC making a "factual drama" about the Grand Theft Auto series and Jack Thompson's crusade against video games, perhaps because I could only frame my response as a series of contorted facial expressions. But no, really, they are doing it, and it'll star Daniel Radcliffe and Bill Paxton. Well, if they don't get shut down.
Take Two Interactive, the owners of GTA makers Rockstar Games, have filed a lawsuit against the BBC for trademark infringement. See, they're none too pleased that they haven't been consulted.
The BBC Two drama, which has the rubbish working title of Game Changer, is described by the BBC thusly: "Conceived for an adult audience, this special 90-minute drama tells the story of the controversy surrounding the computer game Grand Theft Auto - arguably the greatest British coding success story since Bletchley Park." A touch overblown, perhaps.
Daniel Radcliffe, young Harry Potter himself, is playing Rockstar North co-founder Sam Houser. You'll best know Paxton from Aliens, the film which I'll semi-facetiously declare continues to exert more influence over video games than anything Rockstar's done; he'll be playing Jack Thompson, the now-disbarred attorney whose moral crusading turned its focus from rap to video games as he spewed statements about games training children to kill. It's struck me that some of you will be too young to remember that so here, go read.
Anyway! Take Two are not happy about this. In a statement provided to IGN, they said:
"Take-Two Interactive has filed suit against the BBC for trademark infringement based on their movie currently titled 'Game Changer' as it relates to Rockstar Games' Grand Theft Auto video game series.

"While holders of the trademarks referenced in the film title and its promotion, Rockstar Games has had no involvement with this project. Our goal is to ensure that our trademarks are not misused in the BBC's pursuit of an unofficial depiction of purported events related to Rockstar Games. We have attempted multiple times to resolve this matter with the BBC without any meaningful resolution. It is our obligation to protect our intellectual property and unfortunately in this case litigation was necessary."
Ooh! What drama! If it all goes wrong, I'd suggest Auntie go ahead anyway using a little Rockstar-grade satire: make a drama about a game called Big Kill Driver, with Radcliffe playing developer Barry Bungalow and Paxton as rival attorney John Tubthumper.