Bejeweled: EA Buying PopCap For $750m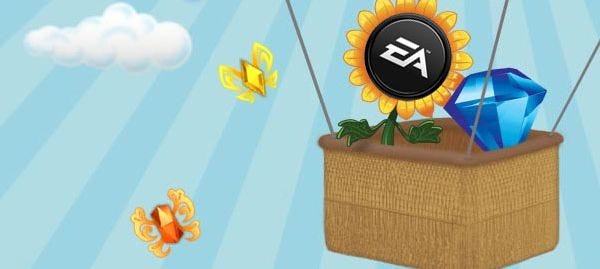 Further proof that you should believe every rumour you read comes with the non-shock news that EA have bought PopCap. Perhaps the real shock here is for how much: $750 million.
Man, Simon PopCap and family are rich tonight!
That's three quarters of a billion dollars. An American billion, admittedly. But that's still AN AWFUL LOT OF MONEY. I wish I'd invented PopCap now. I bet I could have. I would like to have $750 million please. Although of course that'll be small change compared with when RPS finally gets bought up by some evil corporation and we all retire to private islands to race speedboats.
PopCap clearly makes sense as a thing to own. Their games aren't just popular. They're ubiquitous. In fact, to be over the age of 35 and not own at least two copies of Bejeweled is illegal in most American states. With sales numbers that make your eyes spin around inside your head (over 150 million of their games are being played, albeit an awful lot of them for free), they're a company that does seem likely to be worth the extraordinary amount of money EA is paying. Which is $650m in cash (I love to imagine it's literally in cash, backed up in trucks), and a further $100m in "Stock and Multi-year Earn-Out", which I definitely don't need to explain. (Even the New York Times seems to struggle to believe the figures from PopCap, accidentally printing their download figures as 1.5m - that wouldn't even cover Zuma.)
EA bossman John Riccitiello said these words:
"EA and PopCap are a compelling combination. PopCap's great studio talent and powerful IP add to EA's momentum and accelerate our drive towards a $1 billion digital business. EA's global studio and publishing network will help PopCap rapidly expand their business to more digital devices, more countries, and more channels."
Meanwhile PopCap's CEO, David Roberts, fought back saying:
"We picked EA because they have recast their culture around making great digital games. By working with EA, we'll scale our games and services to deliver more social, mobile, casual fun to an even bigger, global audience."
(At first glance I was sure he said they'd picked EA because they were racist. This is unlikely to be true.)
Another man called Eric Brown, with the title EA CFO, garbled some unintelligible nonsense:
"PopCap has a proven financial trajectory with sustained revenue growth and double-digit operating margins. On a non-GAAP basis, this deal is expected to be at least ten-cents accretive in fiscal year 2013."
That may as well have been in Swedish. I think what he means is, "RICH! WE'RE GOING TO BE RICH!"
Not as rich as Mr and Mrs PopCap and their children, who on top of the three quarters of a billion dollars can look to get another $550 million by the end of 2013 should all go to plan. Basically, if PopCap grosses $343m or more, another half billion goes into the PopBank. For a grand total of $1.3bn. Flubberderflubberderflubber. PopCap currently employs 475 people worldwide, and here's hoping they all see a chunk of change from this deal.
This should all go ahead in August this year, so long as no one with enough authority objects. If you understand money gobbledegook, you can read the whole lot on Business Wire.
So how do you feel about this? As PopCap sort of said, EA really has reinvented itself over the last few years, no longer appearing to be the Big Bad they once were perceived to be. Do you think PopCap are safe in their hands? And when will the next Bookworm Adventure come out?
(Rumours that EA made the decision to buy after downloading a free version of PopCap and owning it for an hour are made up by me for this joke.)