The 100 best-selling games on Steam in 2018 so far
Old favourites and brand new blood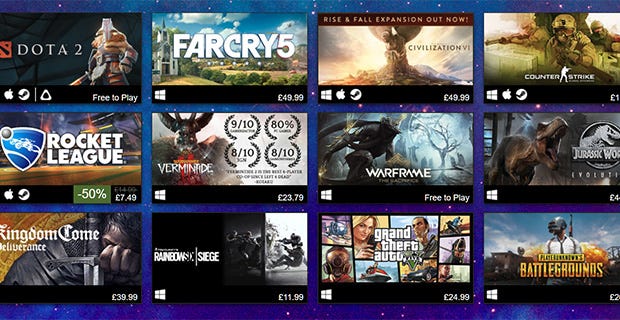 We've just passed the half-way point of 2018, so Ian Gatekeeper and all his fabulously wealthy chums over at Valve have revealed which hundred games have sold best on Steam over the past six months. It's a list dominated by pre-2018 names, to be frank, a great many of which you'll be expected, but there are a few surprises in there.
2018 releases Jurassic World Evolution, Far Cry 5 Kingdom Come: Deliverance and Warhammer: Vermintide II are wearing some spectacular money-hats, for example, while the relatively lesser-known likes of Raft, Eco and Deep Rock Galactic have made themselves heard above the din of triple-A marketing budgets.

The complete list is below, or you can find a more visual galley, replete with buy me-buy me-buy me Steam store links over here. The more interesting page for those of us whose jaws remain defiantly stuck to the rest of our faces in response to the news that a lot of people bought Plunkbat, CSGO and GTA V is this one, which breaks down by month which bona fide 2018 new releases sold best. Good work Genital Jousting, Into The Breach (how did that not make the overall best-sellers list? Scandal!) and Monster Prom, for example.
Valve don't give out any sales details, because they never do (information control is everything), but they do split the overall bestsellers into categories. As such, anything under 'Platinum' almost certainly generated unfathomable wealth, while those under Bronze paid off a fair few mortgages. Here we go - and if you want to read any of our coverage on any of these, just click the tag in question below.
Platinum
Tom Clancy's Rainbow Six: Siege
Sid Meier's Civilization VI
Rocket League
Far Cry 5
Grand Theft Auto V
Warframe
Kingdom Come: Deliverance
Counter Strike: Global Offensive
Jurassic World: Evolution
Warhammer: Vermintide II
Dota 2
PlayerUnknown's Battlegrounds
Gold
Divinity: Original Sin II
Ark: Survival Evolved
Path of Exile
Final Fantasy XV
The Elder Scrolls Online
Assassin's Creed: Origins
Stellaris
Black Desert Online
Subnautica
Total War: Warhammer II
Dragon Ball Fighter Z
The Witcher III: Wild Hunt
Silver
Raft
Frostpunk
Euro Truck Simulator 2
Tom Clancy's Ghost Recon: Wildlands
Dead By Daylight
Fallout 4
The Forest
Cities: Skylines
Team Fortress 2
Human Fall Flat
Dying Light
Dark Souls III
Nier: Automata
Slay The Spire
War Thunder
Arma III
Bronze
Hearts of Iron IV
Sniper Elite 4
Surviving Mars
They Are Billions
Northgard
Elite Dangerous
Tom Clancy's The Division
Eco
Squad
Rise of the Tomb Raider
Age of Empires II HD Edition
NBA2K18
The Elder Scrolls V: Skyrim VR
theHunter: Call of the Wild
Factorio
Battletech
Final Fantasy XIV Online
Conan: Exiles
Vampyr
Bless Online
Final Fantasy XII The Zodiac Age
Smite
Stardew Valley
Paladins
Rust
For Honor
Cuphead
House FLipper
Total War Saga: Thrones of Britannia
Borderlands 2
Ni No Kuni II: Revenant Kingdom
Middle-earth: Shadow of War
Sid Mier's Civilization V
Payday 2
The Elder Scrolls V: Skyrim
Nioh: Complete Edition
Football Manager 2018
Rimworld
Hunt Showdown
H1Z1
Garry's Mod
Sword Art Online: Fatal Bullet
Don't Starve Together
XCOM 2
Terraria
Total War: Warhammer
Pillars of Eternity II: Deadfire
Dark Souls Remastered
Deep Rock Galactic
Crusader Kings II
Just Cause 3
The Sims 3
Darkest Dungeon
Europa Universalis IV
Planet Coaster
Shadowverse CCG
Warhammer 40,000: Inquisitor - Martyr
Watch Dogs 2
Call of Duty WWII
To compare this to last year (as in the whole of 2017), looky-here. Alternatively, for RPS's own Wot To Play recommendations, take your pick from this lot:
The best PC games of all time
The 50 best FPS on PC
The 50 best strategy games on PC
The 25 best co-op games ever made
The best space games on PC
The best non-violent games
The 14 best Metroidvania
The 10 best hacking, coding and computing games
The 25 best horror games on PC
The 23 best VR games
The 50 best free games on PC
The 10 best games based on movies
The 25 best stealth games on PC
The 25 best action games on PC
The 50 best RPG on PC
The 25 best adventure games ever made
The 25 best puzzle games on PC
The 20 best management games on PC