Darth Maul But Welsh: The Old Republic's Voices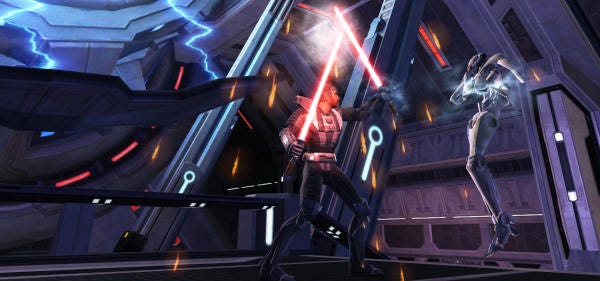 The LucasArts peeps reveal the motivation to have Star Wars: The Old Republic be a fully voiced MMO, in a video below. None has done it before (although it's not the only MMO in development aiming to do it), and it's a huge task. Especially in a game that's essentially two games, since there's no shared quests between Republic and Sith campaigns. It's hundreds of thousands of lines.
It's interesting that they're voicing the player character. There's pros and cons with that. Obviously a massive pro is that your character doesn't stand stupefyingly silent while people shout insults at him, while it does of course reduce the sense of uniqueness about your customised character when he talks with a prescribed voice.
The video shows lots of clips of the game, and gives an idea of the style of voice acting. Well worth a look.