Blizzard have added a big new Overwatch 2 Kiriko bug while purging an old one
No more cleansing, only filth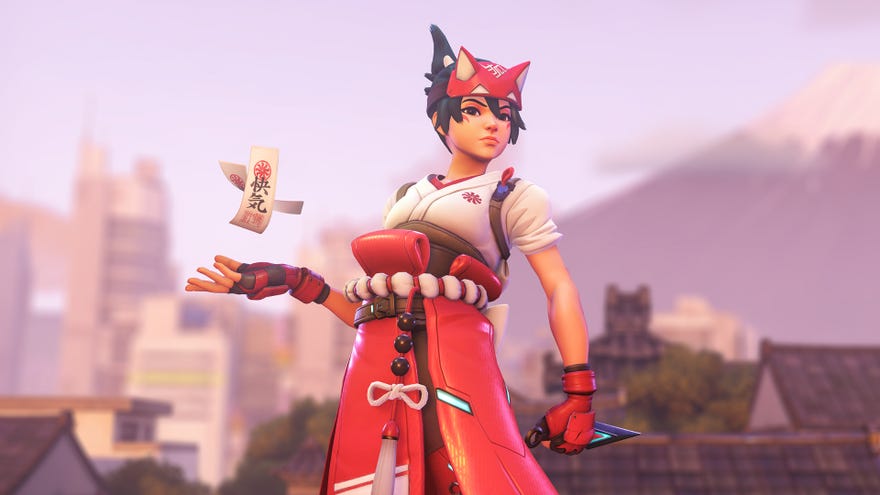 Good news! Blizzard have fixed an Overwatch 2 Kiriko bug that let her teleport while holding the flag in Capture the Flag mode. Bad news! In doing so they seem to have broken the cleanse effect attached to her Swift Step ability, meaning she can no longer purge debuffs. The bug appeared after yesterday's update and isn't mentioned in the patch notes, so yep, it's a bug rather than a balance change. Hopefully she'll get back to cleansing soon.
Watch on YouTube
Swift Step teleports Kirko directly to an ally, even through walls - though she wasn't supposed to be able to lug critical, game-winning objectives with her. A bug had been allowing her to do just that for the past few months, with a fix presumbly only just appearing because it's not a widely played mode.
The cleanse-busting bug introduced with yesterday's update is more significant, because it's not mode specific. Widespread reports of the bug have appeared on Reddit and Blizzard's forums, with no response from Blizzard so far.
Yesterday's update did add a neat-sounding free for all mode that tweaks hero abilities so they resemble the powers of Greek gods. Swings and roundabouts, innit.
In days gone by this would be the bit in an Overwatch news post where I'd riff off of my own experiences, probably with a stupid comment about how I always play Genji anyways. Truth is I haven't even touched the sequel, because tastes change and time makes a mockery of our identities.
Ollie reserved particular praise for Kiriko in his Overwatch 2 review, while questioning whether the overall game does enough to justify being billed as a sequel.
You can download Overwatch 2 for free from Battle.net.