Blue In Green (Hill Zone): Sonic Generations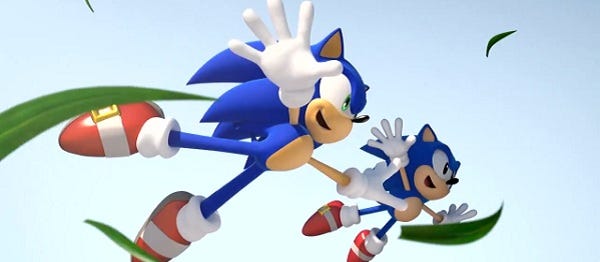 Do you want to see all the colours in the rainbow? I believe I have them here for you in this Sonic Generations launch trailer. Why not make a checklist and see if you can tick off every one of those colours and then list any more obscure hues that you can spot. It's a game I like to call Sonic Colours, which makes it the unofficial PC port of the existing game Sonic Colours. Open Notepad and type them all in as fast as you can!
Sonic Generations, thankfully, has a fully-fledged port which is out November 4th on various downloadable services, Steam included.
The buzz is good and I'm sure excitement is usually dissipating this close to the release of one of the ageing hedgehog's games, so hopefully this one lives up to expectations. That said, I hear Colours was quite good (Sega's version, not mine).
I've never actually played a game with modern Sonic and I've never completed a game with classic Sonic. So now you know.