Boooooo! - The Witcher 3 Delayed To 2015
Why, Geralt? Why?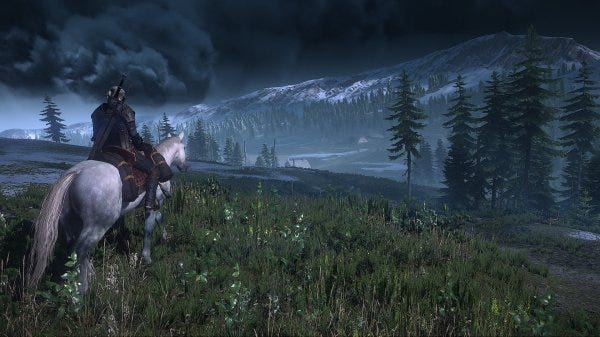 It was all going to be so simple. The Witcher 3: Wild Hunt was set to come out toward the end of 2014, and I was going to tear into it like a ravenous wolf cub, all fur and fang and aggression, no hesitation or 9-5 desk job or mortgages I should be worrying about. But that, sadly, is no longer the plan. CD Projekt's open-ish world opus has been pushed into 2015. It's all in the name of making the best game possible, but... oh jeez what is this entire freshly sliced onion doing in my eye? It's getting in the way of all that bitter sobbing over The Witcher 3 I was going to do.
CD Projekt explained the sudden delay in an open letter:
"We've created a story that flows naturally, cinematically, rendered it in amazing sound and visuals, while preserving full freedom of choice – all for you. We knew this to be an ambitious plan, but believed we could achieve it by bringing together our team with its creative energies and current gaming platforms with their technical capabilities. A project this vast and complex would inevitably require special care in its final stages, manual fine-tuning of many details, thorough testing time and again."

"We recently reexamined what we had achieved thus far, and faced a choice about the game's final release date. The decision we made was difficult, thoroughly considered, and ultimately clear and obvious. We could have released the game towards the end of this year as we had initially planned. Yet we concluded that a few additional months will let us achieve the quality that will satisfy us, the quality gamers expect from us."
As a result, Geralt is packing his beards bags and riding off into the distant reaches of February 2015.
It's unfortunate news, but I have to laud CDP for the decision. The Witcher 3 is looking downright colossal, and shipping with a few moving parts out of place could cause the whole thing to come tumbling down. I mean, we're talking about a fully explorable world 50 times the size of The Witcher 2. And it'll of course be stuffed turducken-full of quests within quests and NPCs and a metric boatload of brooding (and also boats). You can't just toss those ingredients into a boiling pot and call it a day. You've got to measure and re-measure and re-re-measure until everything is perfect.
So now we wait. The Witcher 3 was easily my most anticipated game of 2014 (and perhaps the only triple-A thing I was really looking forward to), so that's a downer. Guess I'll go replay Witcher 2 again. Are there any super great mods for it that I shouldn't miss?