Gravity bone creator now helping develop Sub Rosa
Lets get physicsal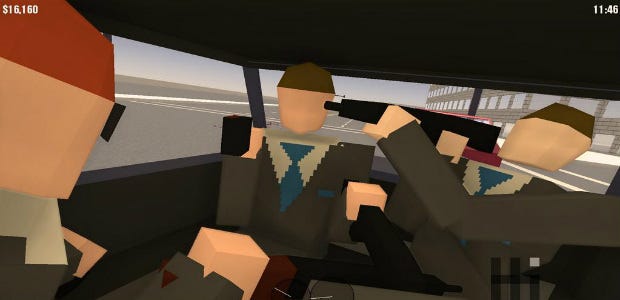 Early access game Sub Rosa [official site] is both a blocky, physics-based FPS and a corrupt corporate simulator. You jump into its online multiplayer world, enrol with a company and start doing dirty deeds, like carrying out heists on office buildings or hunting down a limousine containing one of the game's valuable discs.
What I've seen looks promising, and it's just got even more promising, because Brendon Chung has announced he's helping developer Cryptic Sea make the game. Chung is the chap behind Thirty Flights of Loving and Quadrilateral Cowboy. Those are good games.
Sub Rosa has some really interesting ideas: sometimes the game asks your company to trade discs for cash with a rival corporation. If it all goes smoothly then both sides make a big profit, but if one player decides to gets twitchy and fires a shot (surely every time?) then all hell breaks loose, and to the winner the spoils.
It's due to come out of Early Access next year, and people's experiences so far (judging by the Steam reviews) have been pretty promising. There are a few concerns flying around about the lack of consequences for griefing – such as players killing other, unarmed players before they've had a chance to enrol with a company.
Here's a video showcasing the physics side of the game. There's no canned animations, so it all happens procedurally and naturally: if you jump and position your legs right you can slide over the bonnet of a car like a cool dude, for example.
It's currently £14.99/19,99€/$19.99 on Steam Early Access. If you've played it, what do you think?