Fixed: Second Episode of Broken Sword 5 Slithers Out
It's Satan time!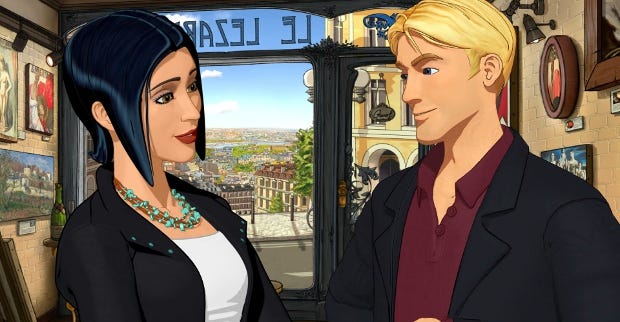 Splitting Broken Sword: The Serpent's Curse into two episodes may have helped Revolution Software make good on its plan to release the retro adventure revival in 2013, not to mention earn a few pennies sooner rather than later, but unsurprisingly left it feeling incomplete. Though our crack adventure game mercenary Richard 'Demo Dick' Cobbett enjoyed the game, he noted that with this split, "The catch is that as well as splitting the raw story in half, Broken Sword 5 has been thematically halved." He wasn't overly thrilled about investigating an insurance claim rather than a supposed supernatural curse, see.
The two halves are now united, as the second episode launched tonight. Hopefully it introduces the devilish thrill Richard felt lacking, and right now he'll be off with George and Nico larking about with a couple of Satans and a few Draculas or whatever it is he wants. I don't know, I haven't played it.
If you've already bought Broken Sword 5 one way or another, this episode is included. If not, the whole package will run you £18.99 from the usual places.
Here, have a gander at Episode 2 in this trailer. It features a goat attacking George, which I can only assume is the devil incarnate.