Broken Sword: The Serpent's Curse Launches Kickstarter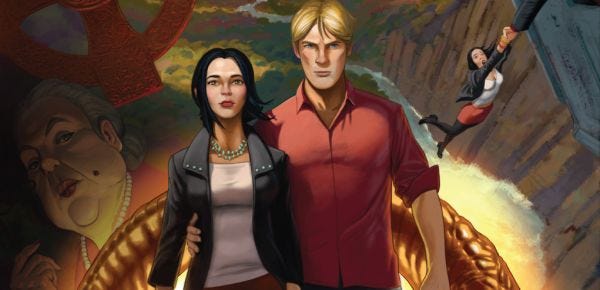 You know what hasn't been Kickstartered? Broken Sword! A classic and well-loved adventure series - how can it not... oh look! Uncle Charles Cecil and many of the original Revolution team have reunited to create a fifth Broken Sword game - in fact they've been working on it for six months - and now they're seeking crowd funding to avoid the need for a publisher. A defiantly 2D adventure, The Serpent's Curse is aiming to be completed by April next year, with copies of the final game secured with a $15 pledge.
The fifth game begins when a painting is stolen from a Parisian gallery, and a man is murdered right in front of regular heroes George and Nico, but what ancient mysteries will provide the themes this time are as yet unknown. But we're teased with the information that their story "reveals a conspiracy as old as the written word".
Take a look at the project video:
That's pretty sweet - George and Charles getting to meet! And it's good to hear Rolf Saxon is back voicing George once again. Cecil tells us they've already invested a good deal of their own money into the project, but need more cash to progress. Their Kickstarter page states that despite their success with the series, previous publishing deals have always meant they've not seen enough of the royalties to self-fund a future game. $400,000 is clearly a big goal, but we've seen other well-loved adventure series achieve this and higher. It's time to find out how much love there still is for Broken Sword, I guess - it should be interesting.
Declaration of interest: A few years back I worked on Broken Sword: The Director's Cut, but have nothing to do with this project other than a desire to play it.