Bulletstorm: Full Clip Edition prematurely ejects launch trailer
Bango!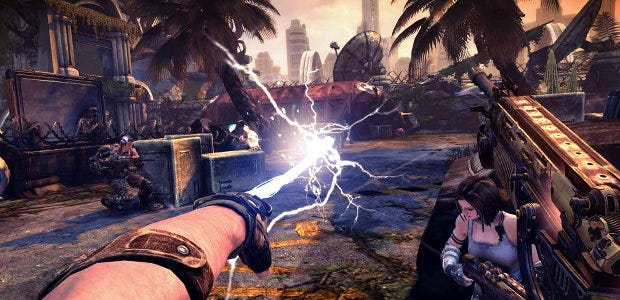 Gearbox are so excited about releasing Bulletstorm: Full Clip Edition [official site], the (slightly) prettied-up and expanded re-release of People Can Fly's 2011 fun trickshot FPS, that they've shoved the launch trailer out two weeks early. You big sillies! It's not a great trailer -- nor were the original's, mind, almost putting me off playing it -- but I do welcome the reminder that Full Clip is due on April 7th. That's soon. Where is 2017 going so quickly?
The Full Clip Edition has "updated models, environments, animations, and a new rendering mode, all running at a smoother frame rate than ever before--with 4K resolution support on PS4 Pro and PC--and lavishly remastered audio effects," Gearbox say. It also adds new mode Overkill Campaign, which lets players go back round through the campaign with all weapons and skillshots unlocked from the start.
In a curious move for a remaster, Gearbox have enthusiastically proposed making Bulletstorm worse by adding Duke Nukem as a playable character with new voiced lines of his own. Don't worry: he's sectioned off in DLC currently offered as a pre-order bonus.
Bulletstorm: Full Clip Edition will cost £29.99/$49.99 when it hits Steam on Friday, April 7th. That's double what the original cost before it was pulled from sale. It won't offer a discount for folks who already own the original edition either. Gearbox head honch Randy Pitchford said on Twitter, "Not possible - completely different publisher, era, platform (they were Games for Windows only), product/sku, etc."
I don't like Bulletstorm enough to pay £30 for an update myself but it is a decent game. I had a great time trying to rack up megapoints with creative kills and the campaign moves at pace through a campy cussfest with some jolly exciting huge set pieces.
I suppose I'd recommend it to folks who missed it the first time and whose wallets bulge, ripple, and strain as three tenners cursed by a witch try to escape their leather cage and burrow into your leg to live as blooddrinking parasites. I'd recommend you get rid of those any way you can, really.