House Of Cods: New Call Of Duty Has PMCs, Kevin Spacey
As was foretold in the prophecy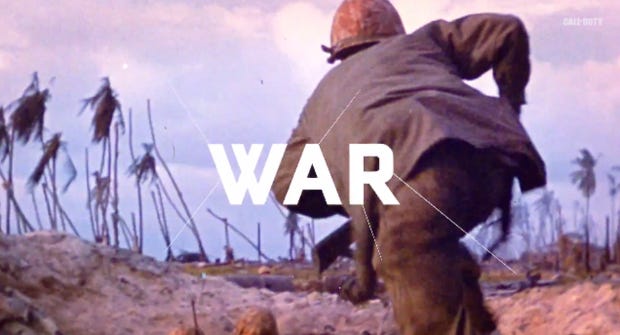 Finally! A new Call of Duty game! What has it been? Five years? Ten years? One whole minute? Never mind the agonizing wait. All that matters now is this perfect moment, this sweet embrace. Activision were planning to take the wraps off Call of Duty: Ominous, Obvious, Or Utterly Meaningless Subtitle (aka, Call of Duty: Advanced Warfare) this weekend, but a couple of leaks have prompted them to offer a few early details. Foremost, this one is being developed by series first-timer Sledgehammer as part of Activision's plan to give each series entry a three year development cycle. Second, it's about Private Military Companies (PMCs) deciding to STOP TAKING ORDERS and START TAKING OVER and there's a brief SHOCK-YOU-MENTARY below. Third, there's also now a trailer and this time the villain is Kevin Spacey.
Kevin Spacey is out of control:
And here's the documentary trailer:
The game trailer is loaded with FutureTech that falls somewhere between Crysis and Titanfall (awwwwwkward), including exoskeletons, jetpacks, cloaking suits, and hover bikes. Also, there's a scene where they blow up a bridge I regularly drive across. So long, Golden Gate Bridge! Please don't ever explode in real life.
I'd comment on how odd it is that Legitimate Journalistic Outlet Vice is now helping a major gaming company make commercials about very, um, ethically dubious military companies, but... oh wait, I just did. Anyway, PMCs. They're trendy to be afraid of, right? I guess they'll be supplying the generi-brand Bad Guy Corp soldiers we'll be shooting at this time.
Game Informer, meanwhile, has the 'zkloosive first screenshot, which features a man who looks remarkably similar to The Wire, Luther, and Pacific Rim actor Idris Elba. That probably means something unless it doesn't.
It'd be pretty rad if the game had a black lead, though. And hey, maybe a new developer (who, admittedly, has collaborated with Infinity Ward on previous games) leading the charge will breath some life back into the stagnating series. Put some spring back in explosions' step. Make the setpieces dumb in a good way again, instead of dumb in a played-out way. It remains to be seen. For now though, we know there will be more Call of Duty. Just as the tide ebbs, grass grows, and global warming ensures both of those things will go all haywire soon, there's a new Call of Duty game. The world has its equilibrium. The circle of life (and virtually ending it) continues.
Call of Duty: Advanced Warfare - a name that will confuse NO ONE EVER SHUT UP ACTIVISION CAN'T HEAR YOU LALALALA - will be out on November 4th.