CapComfirmed For PC: Resident Evil 5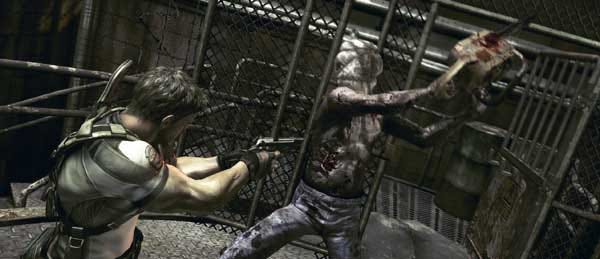 Capcom have stated that Resident Evil 5, Bionic Commando, and Streetfighter IV will come out on PC across the summer (although only SFIV is firmly dated, for July 2nd, as far as I can see). Bionic Commando will also land in July, with Resident Evil 5 coming "later in the year". There will be PC-exclusive features for each of the games, as we'd already seen with Streetfighter IV. I asked a Capcom spokesperson about Lost Planet 2 on PC earlier today, and received the reply: "No word on Lost Planet on PC. Yet."
Full press release below, and thanks to Sub Edii for the tip.

SAN MATEO, CA — May 1, 2009 -- Capcom®, a leading worldwide developer and publisher of video games, today announced that three of its blockbuster hit console games of 2009 will be coming to the PC beginning this summer. Bionic Commando®, Street Fighter® IV and Resident Evil® 5 will all be coming to the PC, beginning in July with Street Fighter IV and Bionic Commando, while Resident Evil 5 comes later in the year. All three games will be optimized for the PC platform and will have new PC-specific features added to the already great games. Street Fighter IV has been rated T for Teen by the Entertainment Software Ratings Board (ESRB), while Bionic Commando and Resident Evil 5 are both rated M for Mature. All three games will be available both at retail and via various digital distribution methods, including Capcom's own e-store.

Street Fighter IV features a mix of returning favorites such as Ryu, Ken, Chun-Li and Guile along with new characters created for this game, such as Crimson Viper, Abel, El Fuerte, and Rufus. Characters and environments are rendered in stylized 3D, while the game is played in the classic Street Fighter® 2D perspective with additional 3D camera flourishes. Instantly familiar six-button controls are the hallmark of the game, with a host of new special moves and features. Mixing classic genre-defining game mechanics the franchise is known and loved for with all-new, never-before-seen gameplay systems, Street Fighter IV brings a brand new fighting experience to fans the world over. The PC version of Street Fighter IV will feature online play, higher screen resolutions and three new shaders based on three of the "artistic" trailers released in 2008 that will change the visual appearance of the game: "watercolor," "posterization" and "sumi-e ink" styles.

The first true sequel to the classic 1988 Nintendo Entertainment System® original, Bionic Commando sees the return of the bionically-enhanced Nathan "Rad" Spencer. Time has not been kind to Spencer: 10 years after his heroic defeat of the Imperials, he has been betrayed by the government he swore to serve, imprisoned for crimes he didn't commit, and sentenced to death. Bionic Commando transposes the swing-and-shoot gameplay of the 8-bit original onto a stunning 3D environment of towering buildings, suspended roadways and monorails, deep canyons and sheer rock faces, where every environment is scalable using swinging, scaling, climbing and wall-walking techniques. The PC version of Bionic Commando will support higher resolutions than the console version, remappable controls including mouse and keyboard support, support for both DirectX®9 and DirectX® 10 and online connectivity for multiplayer sessions.

In Resident Evil 5, returning hero Chris Redfield is sent to Africa to investigate a biological weapon that is transforming the populace into aggressive and disturbing creatures. Joined by another local BSAA agent, Sheva Alomar, the two must work together to solve the truth behind the frightening turn of events. Featuring a revolutionary new co-op mode of gameplay, Resident Evil 5 will let players experience fear together as terror moves out of the shadows and into the light of day. The PC version of Resident Evil 5 will feature online play for co-operative play sessions over the internet and will also take advantage of NVIDIA®'s new GeForce® 3D Vision technology (wireless 3D Vision glasses sold separately).