Clickhole's Have A Low-Key Forest Adventure! Is A Laf
From The Onion's spin-off site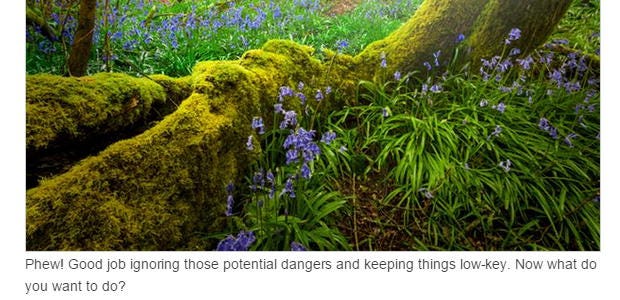 I like to think I know a thing or two about walking simulators - heck, I've even LARPed a few. So imagine my surprise when, within a minute of starting playing new walking simulator Have A Low-Key Forest Adventure! [official site], I had joined a biker gang and committed to a life of danger. Starting over, I strolled quietly through lush forest, pausing to stare at a rusty can and walking right past strange and spooky things - never stop by a cabin in the woods - until... I couldn't help but listen to an old man weep over the thought of Johnny Cash being stung by a stingray. I'd failed again.
It is, you see, the latest text adventure from The Onion's spin-off site Clickhole.
It's awfully fun and pleasant and, yes, does have some lovely woodland scenes to enjoy. I don't know quite how wild the walk can get, but it looks full of antics and diversions keeping you from your well-earned low-key walk.
I can't - or won't - say much more, so go on, click it. They name the site Clickhole, so click it.