COD BLOPS 2 Gun Balancing Uncovers Absolute Jerks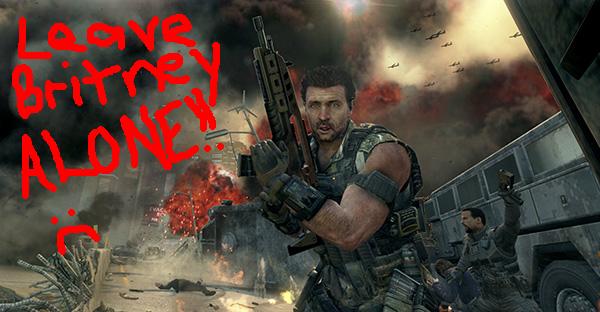 Multiplayer Game Balancing
AN-94: Damage slightly reduced.
DSR 50: Rate of fire reduced.
Ballista: Rate of fire slightly reduced.
You look at the patch notes, your whole body starting to go hot with rage. Your heart beats faster, your breath gets shorter. You HIT the Red Bull can from your desk, the murky liquid splashing your poster of Transformers-spoiling sticky-hottie Megan Fox across the arse. You stand and ram the back of your squadgy desk chair into the desk to hear it BANG, to get some relief from the rage you are feeling. You PUNCH the wall in frustration, and then hurriedly have to shake it hard because that was not the plasterboard part of the wall it was an actual stone brick. You SCREAM in anguish. "WHY?!" you yell. "WHY HAVE YOU MESSED UP MY VIRTUAL GUNS?!?!? HOW WILL I GET MEGAN TO LIKE ME NOW??!?!?!" You do a little sort of rage dance that makes you look like you belong in Populous.
"YOU," you say, looking at Studio Design Director of Call of Duty BLOPS 2 David Vonderhaar's Twitter page. "YOU ARE RESPONSIBLE."
Here are the patch notes. http://t.co/9Myy4KKGfp. Let me put some perspective into your life because I do care about what you say. +

— David Vonderhaar (@DavidVonderhaar) July 23, 2013
The DSR fire time was 0.2 seconds. It's now 0.4 seconds. The rechamber time was 1.0 seconds. It's now 1.1 seconds. +

— David Vonderhaar (@DavidVonderhaar) July 23, 2013
HOW DARE HE DO THIS TO YOUR GUN! THE ONE YOU NAMED BRITNEY! LEAVE BRITNEY ALONE! AFTER ALL SHE HAS DONE FOR YOU! AND THIS IS HOW YOU TREAT HER?
You quickly type some death threats and things about horrible diseases and tell the guy whose work you have moulded your entire lifestyle around that he deserves to die and that he is a baddy.
Not sure these fractions of seconds are worth the threats of violence. +

— David Vonderhaar (@DavidVonderhaar) July 23, 2013
YES THEY ARE. LOOK AT THOSE LITTLE NUMBERS. THEY ARE LODGED IN MY HEART. FOREVER.
SHUT UP DAN AMRICH.
*runs away crying*