Rage 2 announced with blast of colours
Gameplay trailer tomorrow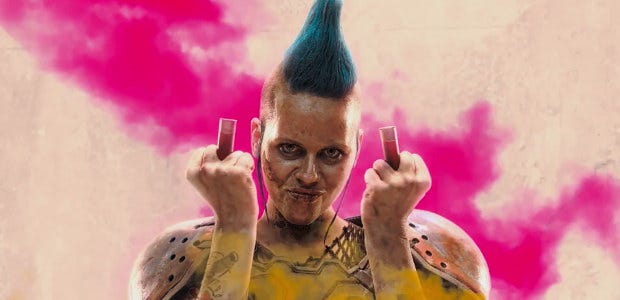 Id Software's 2011 post-apocalyptic first-person drive-o-shooter Rage is finally receiving a follow-up, publishers Bethesda announced today. They do not say much about Rage 2 beyond the fact that it exists, which was kinda already known following a spate of leaks over the past few days. But! Rage 2! That's good. The original game's carfights were a bit bland and the whole thing smashed into its ending like someone walking into a glass door but I really enjoyed Rage's shootybangs. Some splendid violence. And while Rage was very serious and brown, the tone of the announcement trailer--at least--is silly and colourful. Watch this.
That's Andrew W.K.'s Ready To Die in your ears there. And yes, it is a very curious tone - reminds me of Gearbox Software's Borderlands more than Rage. But that is only an announcement trailer doodad, cut with what might be brief snippets of in-game assets (?), so I wouldn't read too much into it.
Bethesda say they will release the "official gameplay reveal" video on Tuesday so see you back here tomorrow and we can hmm and aah together? They also don't explicitly state who's developing this, so I half-wonder if perhaps they've drafted one of their other face-shooting studios.
Update: now Rage 2's site is live, the footnote reveals: "Developed in association with Avalanche Studios." That's the lot behind Mad Max and the Just Cause games. Interesting!
"Dive headfirst into a dystopian world devoid of society, law, and order," Bethesda say. "Rage 2 brings together a true open world FPS experience where you can go anywhere, shoot anything, and explode everything."
Ah, good, I'm glad this is happening. Rage carried the scars of a game that had been in development for too long, changed shape too much, and been cut and stapled back together too often. Its much-vaunted technology didn't seem ready yet either, with all sorts of pop-in even when simply turning around. But at heart it's a cracking FPS. Hopefully they've had a few years out to rethink, set achievable goals, and create a suitable shell.
Bethesda have published some of the best first-person shooters in recent years--Doom, the new Wolfensteins, and Prey and Dishonored on the immersive sim-ier end of the spectrum--so I trust their eye for the genre far more than back when they first bought Id.