CODBloops: Black Ops 2 is DX11 But Shuns XP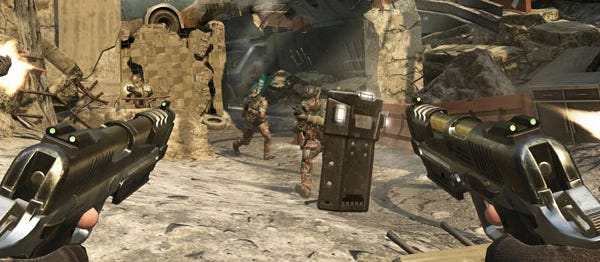 I do hear mutterings from some of my similarly jaded contemporaries that, actually, Black Ops 2 doesn't look as hateful as the last COD, Modern Warfare 3. Given I did find CODBLOPS 1's singleplayer to be comfortably the least obnoxious of the post-COD4 games, I'm inclined to believe them, no matter how sure I am that this is a not a game I'll ever care about. Good to hear that the PC version appears to be doing the work, though - devs Treyarch have revealed that they've update the engine to include DirectX11 support and extra shinies, as well as "more "quality vs performance" options than ever before". The cost of this is no more Windows XP support, which will be bad news for the approximate 14% of Steam users who doggedly remain with Microsoft's most deathless OS. Ditching XP support is not at all uncommon for new games these days, but - good or ill - I suppose it should be taken as a sign of the times when essentially the biggest game in the world decides that OS's time has come and gone.

Claim Treyarch on a PC-specific FAQ, "Performance has been a top priority for Black Ops II PC from day one and we have achieved significant improvements. We've improved the way the engine handles multiple threads. Additionally, we moved the engine from DX9 to DX11. The DX11 API is leaner than DX9 and requires less CPU time to do the same amount of work. It is important to point out that this benefits the entire range of supported GPUs, not just DX11 hardware. We have also added more "quality vs performance" options than ever before so you can customize your experience to either run faster or to satisfy your taste in eye candy." You can't eat candy with your eyes, silly person!
They do actually say "sorry" about having to drop XP support, claiming it's an inevitable consequence of the move to the DX11 API. It doesn't look like anyone's successfully hacked DX11 into XP yet, but perhaps my Google-fu is malfunctioning.
As for the extra shiny-shiny, specifically it's this stuff: "enhanced lighting, shadows, antialiasing, bloom, depth of field, ambient occlusion, and other enhanced effects that are still in the works. And the game can run at higher resolutions and higher framerates on the PC." No framerate cap, apparently, although they have included an optional one for those who want it (like me - anything over 60 is a waste on my monitor).
WHAT ABOUT MOUSE SMOOTHING, says someone somewhere, probably. I'unno. Here are full system requirements if you like, though.
OS: Windows Vista SP2 or Windows 7
CPU: Intel Core2 Duo E8200 2.66 GHz or AMD Phenom X3 8750 2.4 GHz
Memory: 2GB for 32-bit OS or 4GB for 64-bit OS
Video Card: Nvidia GeForce 8800GT 512 MB or ATI Radeon HD 3870 512 MB
OLD.
And here's something about special editions, for people with too much money and shelf-space.