Asus' new 49in curved 144Hz monitor to take on Samsung's CHG90
Monitoring the competition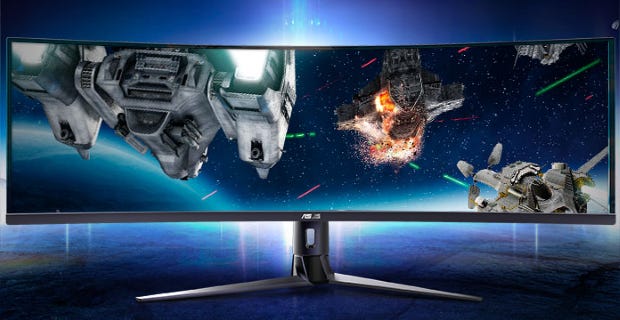 If a crate load of new TUF Gaming peripherals wasn't enough hardware news for one day, Asus have also announced a brand-new 49in curved gaming monitor at this year's Computex show to take on the likes of the stupidly wide Samsung CHG90. Much like its extra long 32:9 rival, the Asus VG49V comes with a curved 49in display with a 3840x1080 resolution and a super fast 144Hz refresh rate, giving you as much room as two 27in 1920x1080 monitors without any pesky bezels getting in the way.
I must admit, I do love a good ultrawide monitor, and as ridiculous as the Samsung CHG90 was when I got it in for review, it did leave a lasting impression once I'd put it back in its box and bid farewell to it - so much so that it currently ranks as one of my favourite and best gaming monitors you can buy today - and I imagine I'll probably feel much the same way about the Asus VG49V when it launches at a currently unknown point "later this year".
The VG49V should hopefully be a bit more affordable than Samsung's £1075 / $1100 CHG90, as it looks like it only comes with support for AMD's regular FreeSync tech rather than the fancier HDR-enabled FreeSync 2.
This will no doubt come as a blow to Nvidia graphics card owners, but for the three of you with compatible AMD graphics cards, it means you'll be able to take advantage of FreeSync's variable frame rate tech for a stutter and tear-free gaming experience if your graphics card is struggling to cope with the monitor's giant resolution. You'll still need a reasonably beefy card to take advantage of FreeSync, however, as Asus points out it only works within the 48-144Hz range. If your graphics card can't get to 48fps, then FreeSync won't kick in and you'll likely still experience a bit of screen tearing.
That's a bit of a shame, but Asus hope the monitor's fast response times will help make up for it in some way. Its VA panel has a typical response time of 4ms, for instance, but when the refresh rate is set to 85Hz, 100Hz or 120Hz, you'll be able to enable Asus' Extreme Low Motion Blur strobe effect mode to get a 1ms moving picture response time - which is pretty much what you'll see on cheaper gaming-orientated TN panels.
You also get a bunch of low blue light modes for easy-viewing on the old eyeballs and a pair of 5W speakers, and in the ports department you'll find two HDMI 2.0 inputs and a single DisplayPort 1.2 input.
If you'd rather stick to a more traditional monitor size, however, then Asus' new "console gaming monitor", the CG32, might be more up your street. Don't be fooled by the branding - this is still very much a PC monitor that just so happens to be targeted at those console box people who would rather play games in their bedroom instead of hogging the TV downstairs.
Indeed, the CG32 looks to be quite a sweet deal for those after a (hopefully) slightly less extortionate HDR display. For instance, it comes with a 31.5in VA panel and 4K resolution, as well as adaptive sync and HDR10 support that matches VESA's DisplayHDR 600 specification.
The latter means a peak brightness of 600cd/m2 - so not quite as bright as Nvidia's fancy G-Sync HDR 1000cd/m2 displays but still more eye-popping than entry-level 400cd/m2 monitors like the BenQ EW277HDR - as well as a claimed 95% coverage of the DCI-P3 colour gamut (which is pretty damn high) and a 10-bit colour panel. Throw in localised dimming zones and that's a pretty tasty-sounding monitor.
You only get a regular 60Hz refresh rate, mind - which is one of the downsides of this being a console-orientated monitor - but at least its adaptive sync technology isn't exclusive to a particular camp of graphics cards. As long as you've got a compatible graphics card, you'll get the benefit of tear-free gaming within the 40-60fps zone. What's more, it's not just limited to the CG32's single DisplayPort 1.2 input, as it also works across all three of its HDMI 2.0 inputs as well. You also get a pair of USB 3.0 ports that can charge things like controllers, as well as another two for your mouse and keyboard.
Asus have also gone full RGB for the CG32, embedding 38 addressable LEDs into the back of the monitor to supposedly 'extend the picture beyond the frame' of the monitor for total immersion - a bit like Philips' Ambilight TVs. Personally I've always found this immensely irritating, but I'm sure you'll be able to turn it off if you prefer.
This is also due to launch sometime later this year, so not much use if you can't decide whether to plumb for Asus' more upmarket ROG Swift PG27UQ G-Sync HDR monitor instead when it launches later this month, but the CG32 is definitely one to watch.