Hot Town: Concrete Jungle Is A Deckbuilding Citybuilder
Deck out your city with decks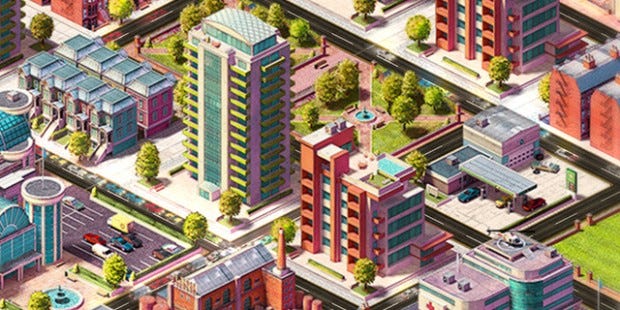 How much of my love of citybuilding games is simply that I love looking at cities? Clean lines, bustling streets, each block a little ant farms to peer into and lose myself within. Concrete Jungle suggests you can twist the genre in whole new directions and I'll still follow along. It replaces all the management and simulation normally associated with citybuilding and replaces it instead with deckbuilding. Ooh. It's on Kickstarter now and more than a third of the way towards a modest target.
The way it works sounds very smart: you construct a deck of different building types, and then place those buildings in efficient positions to clear rows and give yourself more space to build. This should mean that you're always trying to plan ahead and leave yourself room for future buildings, or trying to work around the mistake you unwittingly made five minutes back. It trades being a mayor for being a city planner, in other words.
Also look how colourful and cute it is:
There's a step-by-step devlog on how those buildings are designed.
Concrete Jungle is based on an older indie game made by the same developer, called MegaCity, which has many of the same concepts and which is still available to play online for free.
This more advanced sequel-ish project is looking for £3000, and is currently £1330 of the way there. At the time of writing, an early-bird £5/$8 tier will get you a copy of the game upon release, while £8/$12 will get you the finished game plus the preview build shown in the video above as soon as the Kickstarter is over. The game's also up on Steam Greenlight.