Witchy woods, drifting crystals, and alien sunrises in Connor Sherlock's new collection
Strange places and spooky synth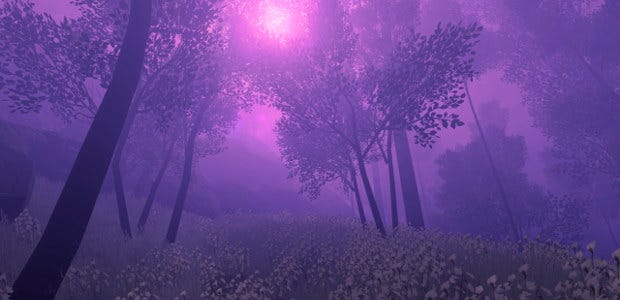 Walking simulator wizard Connor Sherlock has released a new collection of his splendid strolls, visiting five forbidden places for five dollars. I adore exploring his worlds, crossing vast lurid landscapes and poking at fragments of civilisations as my ears fill with his synth soundtracks wailing and warbling like 70s sci-fi and horror movies. Good, yeah? Good.
Zones, as this latest collection is named, visits a rocky alien world of cyan and magneta which lights up as the sun rises, a dusky purple woodland littered with henges, a golden plain with strange structures and vast citrine crystals drifting through the sky, Earth-ish steppe with ruined scraps of civilisation and clouds boiling overhead, and a dark and unpleasant red world. That's all the types of world in the known universe, I believe.
These are vast places and our only direction is wherever we're headed, whichever distant landmark we're trekking to, whichever hill we wish to see behind, whatever is hiding in the fog or darkness, wherever our fingers happen to take us as we just enjoy being there.
They all strike different tones but all make me feel a sense of wondrous insignificance, of being so small in a universe so unknowable and uncaring. The little we are and know will be gone, and that's liberating. Even the doomiest of his worlds make me curious to explore before an assumed terrible end because hell, what else can we do?
I do enjoy how Sherlock tailors movement to each world. We can move with an unholy speed in Witch Of Agnesi, dashing across meadows and leaping up through the forest's branches. It feels wrong to be that powerful; whatever we are and what we can do makes me uncomfortable. Lovely. I ran and jumped and felt bad for a long time there. We get to leap high over a low-gravity world elsewhere in the collection but this has a particular wrongness.
Also excellent: the sunrises and rolling weather in some places. Some good reveals and shifts dovetail nicely with the music.
Ah, I like his stuff, y'know? Good. Good things. I like them. And especially as collections which present a spread of different places, different sounds, different moods.
Zones is yours if you pay at least $5 on Itch.io. It'll only be available until May 19th. Sherlock made its five worlds for the 'Walking Simulator A Month Club' that is his Patreon, and after this they'll go back behind that Patreon paywall. Right now he's looking for a little extra cash for Feral Vector, the excellent games event in Yorkshire, see.
Sherlock's Walking Simulator A Month Club Vol. 1 is half-price right now too. I gushed about that earlier this year, and it is still good. It also is $5 on Itch.
Disclosure: Feral Vector is organsied by some pals of mine. It's a real good event tbh. Where else has a LARP about post-Apocalyptic game development?