Cosmochoria Blasts Out Of Early Access At Half-Price
Leap around space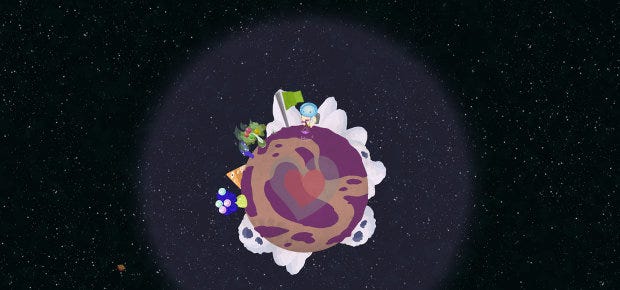 A naked guy in a helmet meandering around the vacuum of space. Finally, a video game that relates to my day to day life.
Long-time RPS readers will remember we spoke about Cosmochoria [official website] when it first entered Early Access last year. At that time we were already comparing it to Edmund McMillen's Aether, which is still right on the money. Both are 2D games, both set on or around small planets, one largely an ode to being naked in space which I reckon McMillen would approve of.
And boy howdy, the game is now live. For the next day [sorry, we're a bit late to this -ed.] it's going for 50% off on Steam, so it's £3.49 and not £6.99. You can check it out in action below, in all space platforming glory.
It's worth pointing out to those of you who've already been playing, the game's high scores have been reset for the full launch.