Creative Assembly Birthing Alien: The Game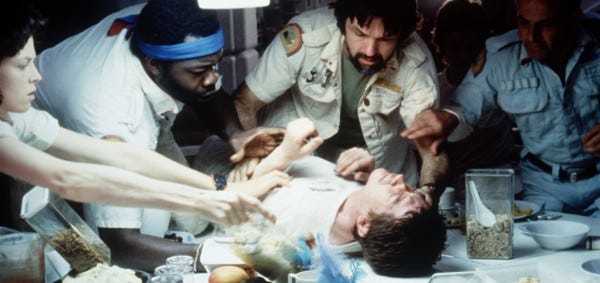 Surprising news from the wilds of Horsham, West Sussex, England. The chaps at the Creative Assembly - best known for the splendid Total War games and some other stuff they'd probably rather forget - have just had their next game announced by, er, Minister for Culture, Communications and Creative Industries, Ed Vaizey. In a bit of a major switch-around for these strategy gurus, they're taking a swing at the Alien franchise. Yep, that's Alien singular rather than plural. Great (Ridley) Scott!
Very few details as yet, bar that Ed Vaizey seems jolly pleased that a Brit development house is tackling such a huge global license. Clearly, it's related to SEGA's current partnership with Fox for the Aliens brand, having already led to Rebellion's Aliens vs Predator, in theory Gearbox's little-seen Aliens: Colonial Marines and the sadly defunct Aliens RPG from Obsidian.
Speculation? As it's Alien rather than Aliens, an all-out action game is perhaps unlikely. An adventure game? A strategy game? Something Dead Spacey? Whatever, surely it's going to involve just one but very significant boss fight...
We'll nuke this site with more details from orbit soon as we have 'em. It's the only way to be sure. That should be extremely soon, as Alec is RIGHT THERE.