Crossover To Bear: Left 4 Dead 2 Meets Resi 6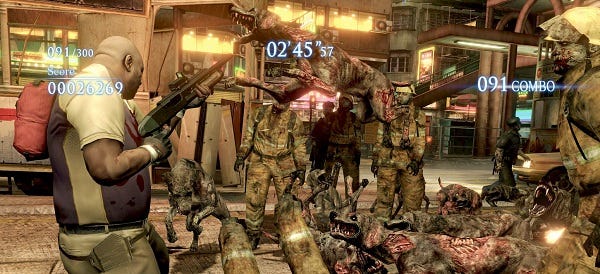 Pretend that you didn't read anything on the internet last week so that I can tell you about a keerrraazy new crossover that you won't believe. Left 4 Dead 2 and Resident Evil 6. I know, right? When you've gathered the pieces of your mind, now blown into giblets, indulge me for a moment longer and act like you didn't know that the survivors from Valve's co-op sequel will be selectable in Capcom's lurching horror. Mini-tanks and witches will also appear in the No Mercy game mode, which is part of the 'Mercenaries' minigame. Some Resident Evil monsters will also appear in Left 4 Dead 2. They're called the Lepotitsa, Napad and Ogroman, and I can't work out which has the silliest name. There's a video below.
Mercenaries mode in Resident Evil 4 was a pleasant diversion but that video right there? That didn't look pleasant or diverting at all.
In a carefully worded press release, Chet Faliszek of Valve said: "We're huge Resident Evil fans, so when the opportunity arose to work directly with Capcom to combine L4D2 and RE6, we jumped at it." Weirdly, he didn't go on to add that Valve would have been far happier if their characters could have appeared in Resident Evil 4 instead.