Crusader Kings 2 expansion Holy Fury is out now
A royal fine mess you've gotten us into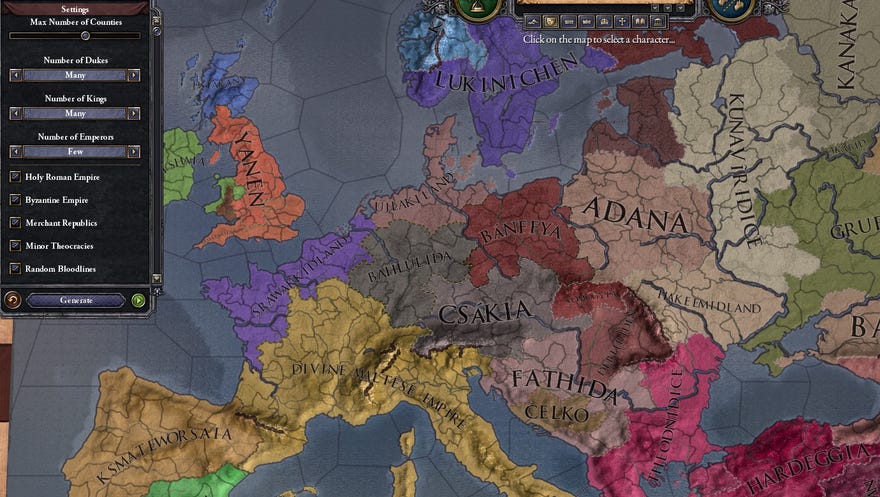 It feels only right that the biggest expansion for historical simulator Crusader Kings 2 adds the option to simulate alternate worlds's histories, too. Released today, Holy Fury was initially billed as an expansion to the religious systems of the game. While that is part of the package, even Paradox's own focus has shifted to the expansion's potential to generate endless earths. While the geography may look similar, the empires, cultures, religions and borders are all new. Plus, sometimes the planet may be full of talking animals. The launch trailer readies to march below.
While the world-generation features are exciting, Holy Fury also goes back to renovate the roots of Crusader Kings 2. Religions, especially the interplay between Christian and Pagan faiths was always a cornerstone, but the old systems have aged poorly compared to the elements layered on top of the game by its astonishing number of expansions. Holy Fury increases Christianity's influence on its nations with systems for sainthood, mass conversion, church-approved coronations, revised crusades and more. Pagan players can also reform their religions to follow new paths.
If you want to take a deep dive on Holy Fury's features before putting money down on it, Paradox have kindly put the expansion's manual up on their page in PDF format. Interestingly, the manual reflects the shifting focus of this expansion too. Random and 'shattered' worlds get first billing for explanation. Shattered worlds in particular are interesting - a small map, with counts and dukes as the highest position available, making the consolidation of territories into a stable kingdom your primary goal. There's a lot of new gears turning in this expansion. I'd give that manual a peek.
Holy Fury for Crusader Kings 2 is out now on Steam, Humble and Paradox Plaza and costs £15.49/€19.99/$19.99. The base game is also 75% discounted on Steam at present, with 50% off every prior expansion. Still expensive if you want lots of them, though.