ESL Announces "World's Largest" CS:GO Event
Counter-Strike a-GO-GO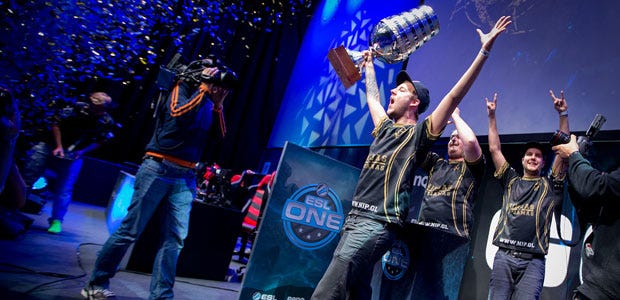 Photo: Kelly Kline
ESL has announced a $250,000 Counter-Strike: Global Offensive tournament to be held in Cologne from August 22-23 calling it the "largest Counter-Strike: Global Offensive event in the world".
The eSports company has had big money tournaments for CS:GO before (a couple of $250,000 prize pool tournaments in 2014 including one at GamesCom) and there's another one on the horizon (a $250,000 prize pool for ESL ONE Katowice's CS:GO event). What they're trumpeting here is the capacity of the venue. The tournament will be held in the LANXESS arena which holds 15,000.
I asked Ulrich Schulze, the MD of pro gaming at ESL, about ESL's affection for Counter-Strike and CS:GO via email. "Counter-Strike has been the heart of ESL for 15 years - it was there when we founded ESL, and it is one of the strongest games today," was the response. "It has an enthusiastic crowd, a well developed professional scene and a developer which really cares about eSports."
But the thing about CS: GO's pro scene is that it's currently under a lot of scrutiny as professional players and affiliated people have been involved in cheating and match-fixing scandals. There was the iBUYPOWER match-fixing, Valve Anti-Cheat bans which hit pro players on Titan and Epsilon in the run-up to Dreamhack Winter, accusations of cheating during Dreamhack, hell – a stand-in for a lower tier pro team even got VAC banned mid-match.
With that in mind the next question was about how ESL plan to protect their tournament: "We have strict rules in place regarding match fixing, and we have added more security measures to deal with cheating. These include no access to the Internet for players, checking of peripherals before the tournament and of course our in house anti cheat ESL Wire."
The tournament money is the other thing ESL are keen to talk about, noting that their previous events have involved community-funding for the prize pool whereas this one is being footed entirely by ESL. I asked Schulze why he felt it was significant not to use the community funding model in this instance:
"We have always invested significant amounts of prize money into Counter-Strike, even before the community funded Majors," he said. "While we are happy the community contributes to the prize, it is also our responsibility as a tournament organiser to provide prize pools allowing players to make a decent living out of their eSports careers, so going forward we would be happy to see a combination of community funded and organiser funded prize pools at all events."
Working out how professional players can make a living from eSports is a key part of reducing the impetus to match-fix or to cheat so prize pools and the financing for those will play a big part in the ongoing development of eSports from the top tier through to the up-and-coming leagues.
More information for this particular tournament – structure and how to qualify – will be available nearer the time.