Counter-Strike 2 launches without many of Global Offensive's best features
Mac support, Arms Race and left hand mode all AWOL
Counter-Strike 2 released last night and has duly taken over from Counter-Strike: Global Offensive as Steam's most-played game at the time of writing, but individual player reactions are a bit mixed. Valve's new/revamped free-to-play FPS sports a range of exotic features and fixtures, from swirlier, reactive smoke to new server architecture, but it has launched without many of the modes, maps and functions Global Offensive diehards are accustomed to, after a decade of updates.
Here's what Counter-Strike 2 offers at the time of writing, according to Valve's FAQ page and advance reports from RPS reviewer Ed Thorn. The launch modes are Deathmatch, Casual, Wingman, Competitive, and Premier mode (the latter being only available to Counter-Strike Prime subscribers, who get exclusive cosmetics and the ability to matchmake with other Prime subs).
The launch maps (some of which are in the game's "Active Duty" pool for competitive players) are Mirage, Overpass, Vertigo, Inferno, Ancient, Nuke, Anubis, Dust 2, Office and Italy. If you bought skins and cosmetics in Global Offensive, you'll find them all where you left them as well.
And here are a few things that aren't in the game versus CSGO, at the time of writing. Community server support and the map workshop are "coming soon". There's no Mac support and no indication as to when it'll be added. Certain beloved Counter-Strike maps, like Train and Cache, are absent. There's no War Games mode, no Arms Race, and no option to carry a gun in your character's left hand.
While many launch players are happy with Counter-Strike 2's changes - for example, the fact that you can now choose weekly care package rewards - there's plenty of blowback on Reddit. "They cut half the game lol," reads one melancholy post from last night that has attracted over a thousand upvotes.
There have also been the usual launch day bugs. Valve patched the game within hours of its release update to address a few of these smaller technical wobbles.
The above omissions wouldn't be so biting, of course, if Global Offensive were still online alongside Counter-Strike 2, but as with Overwatch 2, the older version of the game has been permanently retired.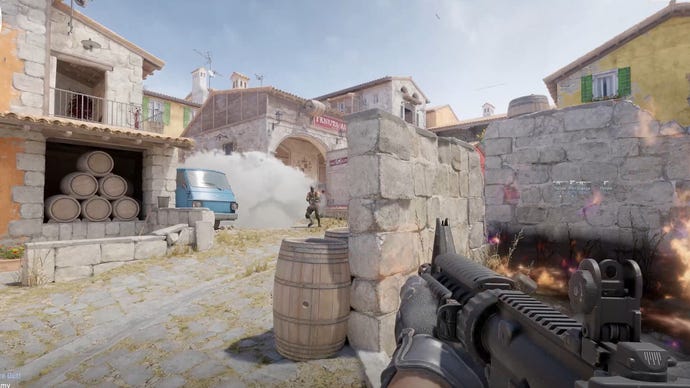 This is surely because Valve don't want to split the Counter-Strike playerbase, which makes sense from a chilly business perspective. But as Overwatch 2's recent fortunes demonstrate, transitions like these need to be handled well, with appropriate measures to reassure players being shifted from a game they've spent half a life playing to what is on some level a new and relatively untried experience.
In particular, the wiping of all Counter-Strike: Global Offensive Steam achievements feels like an unnecessary provocation for people who've been playing CSGO since 2012.
Are you playing? Here's Ollie's guide to the best Counter-Strike 2 settings to help you settle in.