Cursor*10 All Over Again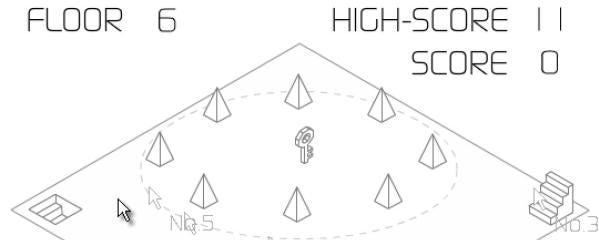 Spooks. I was just about to check Neko Games site, to see if there might be a new Hoshi Saga (the series of micro-puzzles where you try to find the star - go play all three), and glanced at IndieGames along the way. There's something better than a new Hoshi Saga! There's a new Cursor*10.
Just over a year ago we talked about the one-player co-op extraordinariness that was Cursor*10 - a game in which you need multiple cursors to explore the levels, each created by you on a previous attempt. Build up enough ghost cursors, and it's possible to click on two, three, four things at once. It's ludicrously difficult to describe, and much more interesting to play. The original is here.
Version 2 takes the same principles. You have ten cursors, each with a limited lifespan, and worst work together, er, with yourself to reach the 16th floor. It's just lovely, if quite short, making your brain have to think in a unique way. Go play, report back.