Cute tidying puzzle game A Little To The Left is getting a free Easter event
four new egg messes to unscramble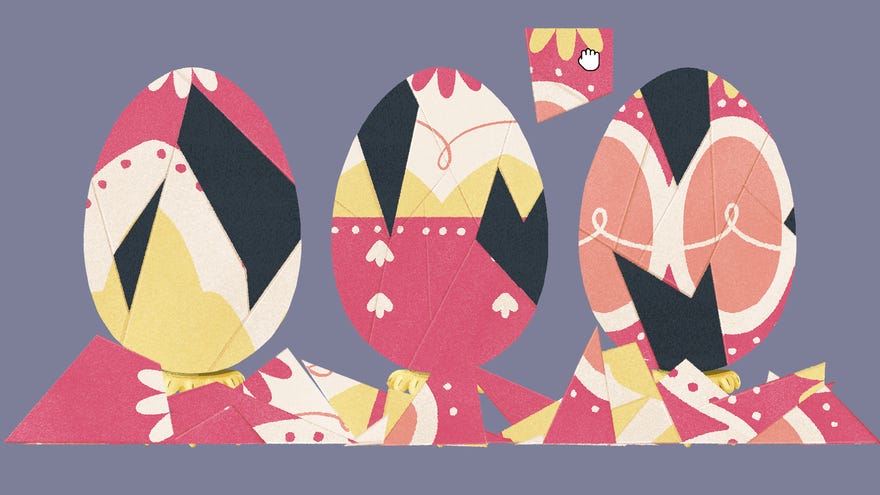 A Little to the Left is dropping its second free Special Event, running from April 7th to April 10th (that's this weekend coming!). This Easter-themed Something Eggstra event will introduce four new egg-themed messes for players to unscramble. Not sticky egg messes in real life, but cute egg puzzles in a warm, charming video game. Something Eggstra follows on from December's Christmas freebies.
For the first two decades of my life, I was torn in a war between two foes: spring cleaning season and video games. My mother always dragged me away from my controller and forced me to tidy up my room. But this year, I decided to spend the day with A Little to the Left; I prefer to enjoy neatness and order by solving puzzles in games, leaving my actual wardrobe in chaos. Of course, if you have to stick to the traditions of spring cleaning season in the physical world, you'll still get a chance to access limited-time event puzzles you may have missed. According to Max Inferno, the game's developer, a puzzle archive mode is currently "in incubation", set to release later this year.
The new patch includes various bug fixes and will be available as a free update on PC, Mac, and Nintendo Switch. You can find the Easter puzzles in the game's Daily Tidy Delivery mode, from 00:00 in your local timezone on Friday, April 7th. There will be a brand new puzzle everyday of the event, playable until 23:59 on April 10th. If you haven't got the game, it's also a good chance to start your healing, tidying experience, accompanied by a cute naughty kitten. A Little To The Left costs £13 on Steam.