Dangerous High School Girls In Demos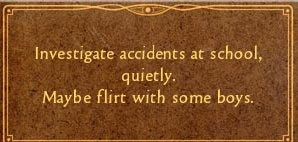 News reaches us that a new and improved demo of previously discussed RPS-indie fave Dangerous High School Girls In Trouble has been released. The mechanisms are slightly tweaked since the last edition, which improves the subgames somewhat, but it's still fun - a faux boardgame with a satirical period wrapper - kind of a Cluedo meets (1920s) Clueless. It also remains one of the best current PC games to show out of context bits from. For example, the objectives screen at one point:
And a couple more beneath the cut.

In my experience, a handjob, at the very least.
Deborah, at least, is paying attention to the objectives screen.