Darkly Devious: AI War Ancient Shadows Expansion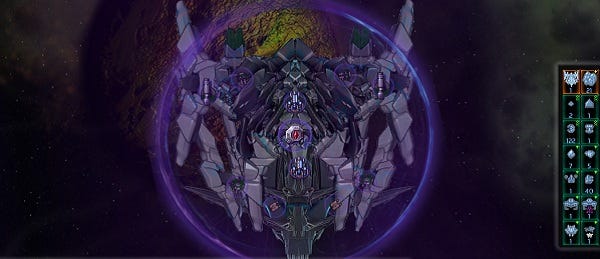 It's fair to say that Arcen fell of the pace a little with A Valley Without Wind, but then AI War was one of the most accomplished debuts any studio could hope for. If A Valley Without Wind had a stumbling gait, AI War was striding along like the coolest cat in town. It doesn't have the nattiest threads and but none of that matters once you sit down and play. Ancient Shadows is a new expansion coming for the game, which pits emerging intelligences against players in conflicts that feel as much chess as tower defense or RTS. That's a new expansion three years after release and it looks like a significant one. The beta is available now for pre-orderers. Details below.
The most significant addition, the 'anchor feature' as Arcen call it, is Champions.
With the Ancient Shadows expansion, you can now set a player to the "Champion" role and instead of a home command station and all the usual stuff a player starts with they get a single modular ship. But what a ship. At the beginning it's basically a super-starship that's pretty powerful but nothing world-shattering. But it can gain experience, and with experience it can upgrade modules.
Champions will be able to travel to otherwise unreachable parts of the galaxy where they might find splinter factions of each race. Helping these factions can lead to rewards, including new modules and hulls for the champion to use.
It sounds like it might be another layer of complexity and whether or not that's a good thing for you will probably depend on how much time you've spent playing the base game and/or the current expansions. AI War is probably best played from the start, without embellishments, when it's first played. Over time it's good to add to it but there's plenty for the beginner at the beginning.
I haven't actually played a full game of AI War since the major Light of the Spire expansion so this might be a good opportunity to go back in. Along with the champions, the expansion will eventually include (though not in the current beta):
9 new bonus ship classes (coming soon, not implemented yet).
3 core AI guard posts and one new minor faction
New AI types
New Map types
A large amount of new music (to be released when the expansion fully launches, you'll need to download the final installer to get the music, it won't be delivered via update).
On top of that there are now modular fortresses, although only for humans at present, with the rest coming later.
Pre-orders cost £2.64 and give immediate access to the current version while the final release, due October, will be £3.30.