Dead Island: Epidemic Ready To Infect Beta Players
F2P multiplayer arena battling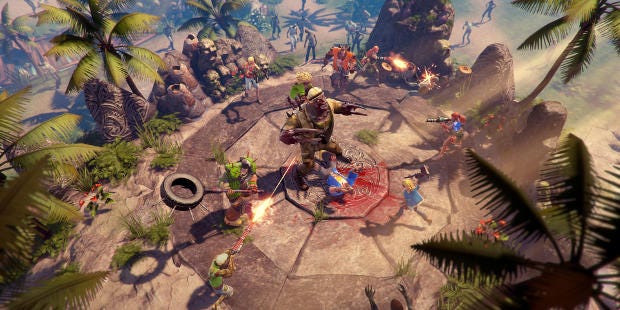 If you've missed word of Dead Island: Epidemic before today, it is - deep breath - a free-to-play multiplayer action hack and slash arena game. It's pursuing a cartoony look and feel and, from a trailer voiceover, it's making no bones about trying to be funny (although I hope the game itself aims a little higher than a silly voice).
There's a little more info on this kinda-sorta-maybe-MOBA in a post we ran all the way back in June, although details will have changed since then. Epidemic has just reached open beta and there's a new trailer to celebrate.
The Dead Island series has experienced more than its fair share of tonal shift since it began. We all remember that trailer: probably one of the most popular, viral and - dare I say it - emotionally affecting pieces of pre-rendered footage in recent years. Then, of course, there was the game itself. Which, well, didn't quite nail or even entirely pursue the same tone. With Dead Island 2, the evidence is pointing towards Yager going full bore comedy. Epidemic, despite a different developer helming it, looks to be in much the same vein.
Of course, for all that the original Dead Island featured some very moody music and did occasionally manage to produce a sense of atmosphere, it was also a game about bludgeoning or dismembering hundreds of zombies. And probably laughing a lot along the way. It looks like Epidemic certainly has that nailed, with a range of classes and plenty of zombie types to slaughter. Besides all else, over-the-top multiplayer hack and slashers aren't the best place for introspective rumination on the barbarity and folly of man, eh?
Since a holiday on Dead Island doesn't come with any immediate costs, why not give it a shot on Steam? It can't be worse than flying Ryanair.