Delightful Shmup Death Ray Manta SE Released, Includes Source Code So You Can Tweak Or Copy It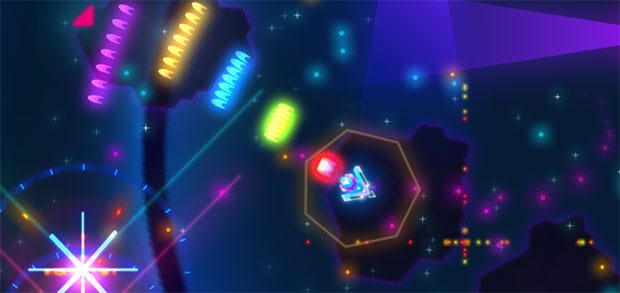 Indie (whatever that means, etc) stalwart Rob 'RetroRemakes / OddBob' Fearon, of War Twat fame (as well as an RPS comments regular), has just released his latest hallucinatory deathtrip shmup, Death Ray Manta SE. It's a rebuilt, remixed, Steam-hosted version of his well-received 2012 title Death Ray Manta, which had the twin goals of being a sensory-overload arena shooter in the Minter tradition and trying to encourage a more open, co-operative approach to game-making by letting players fiddle with its data files. Hence the DRM jibe of the acronym, essentially. The new version goes even further: you can pick it up as part of a bundle which includes its source code and a basic edition of GameMaker. The dev is cheerfully expecting any amount of sweeping changes, a slew of clones and cheeky re-attribution as a result.

The weekly Humble Bundle it's part of is here, and includes the likes of Super Crate Box, Spoiler Alert, 10 Second Ninja, Stealth Bastard and Wasteland Kings, source code for all of which is also available depending on how much you pay over the average. I might just do a separate post about the bundle and its dev-encouraging focus, but I wanted to focus on the DRM SE here because it's the brand new game. Here's some of Fearon's plans for the source code release:
For a small amount extra, you get a snapshot of the source code that you can remix, rejig and play with to your hearts content.

— Rob Punches Robots (bobbinsrobots.com/@Bobbins) (@retroremakes) September 17, 2015
There's not much in this that can't be grasped by someone new to Gamemaker. A few days or so will get you up to speed, promise.

— Rob Punches Robots (bobbinsrobots.com/@Bobbins) (@retroremakes) September 17, 2015
Aw, basically.
While obviously the SE version has a great deal in common with the 2012 one, "it's been rebuilt entirely from scratch to run at 60fps, fairly smoothly, with more bigger better flashier lights to flash at yourself. Also now with two sticks not one so everyone can shut up about 'have you thought about making it a twin stick shooter'", Fearon tell us. Assorted other devs pitched in, with the collaboration referred to as 'The Future Of Videogames.' I like that.
Let's have a look at the aforementioned flashy lights:
It's available on Steam and Itch.io as well as that bundle, with a 10% launch discount at the former, but in any case it's less than £3/$4. Fearon's talked about pricing, storefronts and how it all effects him personally here, which I very much encourage reading whether or not you're interested in the game, but particularly if you are considering buying it.
Oh look I seem to have left something here
FKG6I-4GI2B-88KNC
7W0R6-CQ29B-6X9JB