But Can He? Devil May Cry 4: Special Edition Stuff
Punch-o!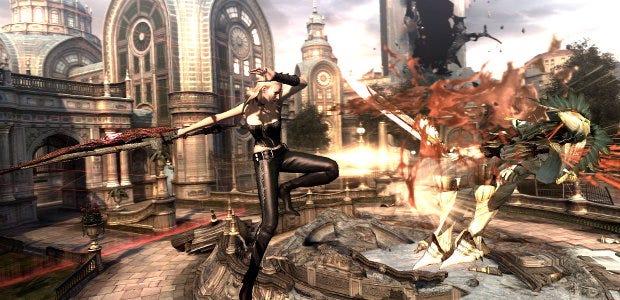 The Devil may cry, but only if he has twenty bob spare. With Devil May Cry 4: Special Edition [official site] a bit over a month away, Capcom have been sharing more about the snazzed-up re-release of 2008's demonic murderfest. A price, for starters: £19.99/24,99€/$24.99. A trailers and gameplay videos demonstrating new characters added to this release, for the main course. And for dessert, bless them, they've even bumped the PC release up a day to match consoles: June 23rd.
The Special Edition brings higher-resolution textures, balance tweaks, extra skins and costumes, a Turbo Mode that makes everything 20% faster, and three extra characters from other DMC games. Trish and Vergil have been playable in other DMC games before, but it's a first for Lady.
I'm a latecomer to hack-and-slashing beat 'em ups, only getting into the genre through PlatinumGames, so I quite fancy giving this a go. But it's frustrating to buy a game knowing I will be awful at it but could muddle through on a lower difficulty if I tried. Games tolerating weakness tends to make me lazy, even if I dream of mastering dodges and parries and cancels and combos and all the other wonderful tricks of the genre. To draw a lazy comparison, I liked that Dark Souls (a different type of game, to be sure) forced me to learn.
Anyway, here's your general-purpose 'gameplay' trailer:
Here's a look at how Vergil works in DMC4SE:
And here's an introduction to Trish's style and moves:
The third new character, Lady, is due a showing-off today on a livestream at 4pm Pacific. That's midnight UK time, and frankly I don't recommend action at bedtime. No, I think you need a warm glass of almond milk and perhaps a gentle Scandinavian murder drama.