Dig Deep: Paranautical Activity Kickstarter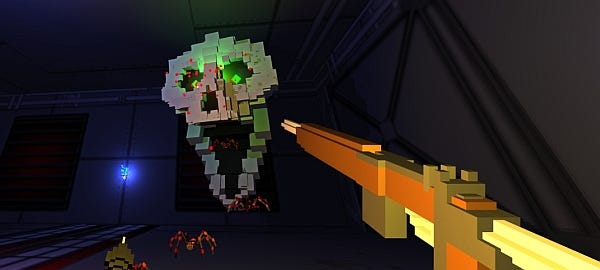 You might remember fun FPS Paranautical Activity from that time I played it and enjoyed it quite a lot. If you don't remember, then I don't know why I bother. TSK! Anyway, the team have had a few ups and downs since then. First, they set-up a Greenlight page, then they were courted by a publisher who claimed they could get on Steam. Then Valve told blocked that move and the developers were left despondent, and a bit poor. The despondency was eased by a balloon popping party, but they need a bit of help the poor part, and have launched a Kickstarter. Pitch is below.

This is one of those 'final hurdle' Kickstarters, where the game is quite far on but they need a few pennies to make it everything they dreamed of. I enjoyed the rough and ready version I played a few months back: it's the perfect game to while away an hour shooting horrible and creative enemies, even though I could barely get past the first level at the time. Since then there has been a pile of major updates, so even if they're eating stale bread and living in cardboard boxes, they're still on top of the game. Take a peek.
I'm a little sad that the multiplayer is a huge stretch goal, but I understand that it's a tough thing to work on. Ah well. The devs are pretty active on Twitter, so don't even think about asking me something that they could answer.