Dino Might: Orion Gets A Release Date, Trailer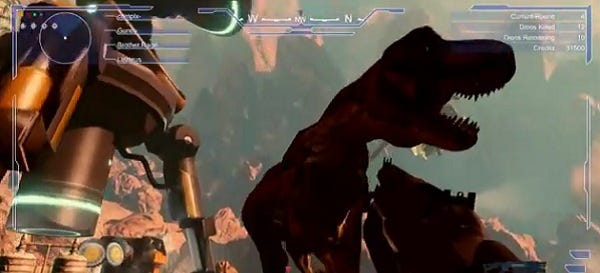 Co-operative, open-world sci-fi dinosaur hunting game Orion: Dino Beatdown is strapping into its jetpacks for an April the 20th release date. After watching the trailer below I just hopped onto Google Calendar and made sure I had nothing planned for that day - just some lump thing in my brain needed removal on that day. I soon got rid of that. What smells of burning, btw? Anyway: I also added "Sleepover with the Timothy Olyphant" to my girlfriend's calendar to make sure I'm not disturbed. I love Trespasser and I take my dinosaur hunting VERY seriously. I am the Bob Peck of RPS.

My favourite bit is watching the T-Rex chasing after the dropship looking thing. He looked so cute! Anyway, it's cheap, it's co-op and I'm going to play it until my arms are stumps, that way I can fit into my T-Rex costume.
April 20th.