Mask Of The Red Death: New Dishonored Screens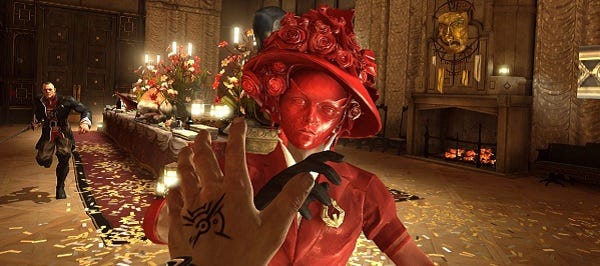 It won't be long before I'm the only member of RPS who hasn't played Dishonored, which is surely due to some form of dire cosmic plot against me. I'm not going to spend the next few months tugging at Alec's sleeve and asking, over and over again, "but how good was it?" or calling Jim in the wee small hours of the morning and asking, "will it satisfy my every desire?". Instead of gathering every last remaining scrap of knowledge that falls from their brain-pans, I've decided to impose a media blackout on myself. I'll be the one who goes in knowing the least and that'll make the experience all the sweeter. But then I remembered that it's my job to look at every picture and video of every game. Here are some new screens.
The weirdest hat/mask ever devised lurks below. In fact, I challenge anyone to find any hat, mask or combination thereof that is stranger.
Oh, and do click for bigger versions, including the image in the header.