Divinerest: Divinity - Original Sin Announced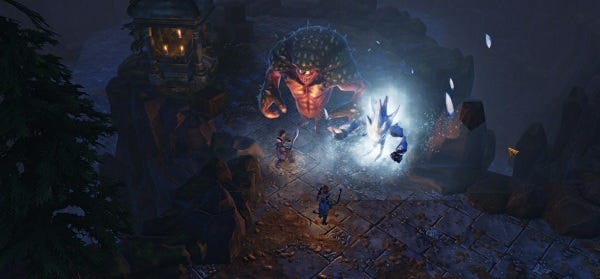 Following Divinity II: Ego Draconis, Larian Studios are returning Divinity to its Divine roots with Original Sin, which may well be the Divinest Divinitude of all. PC Gamer have seen the return to isometric RPGing in action and Larian head honcho Swen Vincke tell them the game is being created to "address frustrations with Divine Divinity". Turn-based combat is in, as is a story tailor made for co-op play. Sounds good to me.
The characters are ready-built, a resurrected murder victim and a hunk of muscle, and there's some clever-sounding conversational trickery: disagree on how to deal with a dialogue option, decision or quest and eventually the game will resort to stat checking to see whose character is more convincing. Co-op play and turn-based combat are enough to earn this a position on my Wall of Intrigue, particularly when the game magically allows one person to continue exploring in realtime while the other fights.
That said, it can't replace Dragon "the one where you marry a skeleton" Commander's place in my heart, which is also 'of intrigue'.