Divinity: Original Sin 2's Definitive encore happens this August
A divine ascent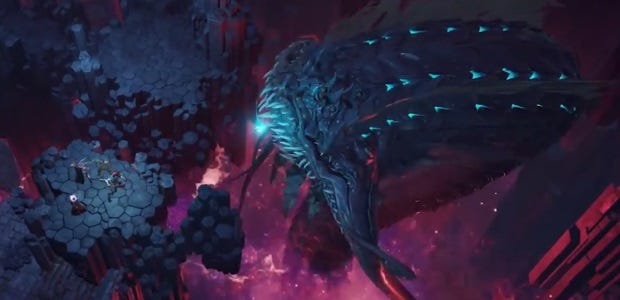 If there's one thing experience has taught me about prolific RPG powerhouse Larian Studios, it's that they're perfectionists. Early access really is just a foundational step, and even the 'final' retail release is just a dry run. As with their last several games, they've just announced that their RPG mega-hit Divinity: Original Sin 2 is getting a Definitive Edition re-release this August, presumably in an attempt to scoop up all the Best RPG Of 2018 awards on top of cleaning house last year.
The Definitive Edition is currently in testing over on consoles (with an Xbox public beta/demo opening up tomorrow, if you want to inform and/or convert your friends). To help gather feedback on an assortment of potential issues during porting, Larian have come up with an ingenious solution that bypasses the usual (and frequently skipped) pop-up boxes: Making the feedback system into a fully voiced in-game character. Meet Feedback Billy, plus a trailer for the Definitive Edition at the end of the video.
Undoubtedly Larian's efforts to polish up the second game for a console release will bring some improvements to the gamepad UI. As nice as it is to hunch over a keyboard for tens of hours like some kind of gnarled (and kinda cool-looking) techno-wizard, there is something to be said for enjoying a game like this sprawled out on a sofa with a wireless controller. Especially if you're playing local co-op. They just need to make the text chunky enough to read clearly from half a room away.
All the tweaks and improvements (including some promised new content) will be coming back to PC alongside the console launch of the game this August. While Larian are tight-lipped on exactly what the Definitive Edition upgrade will bring to desktop players, they have promised 'thousands of changes', and given how enormous even their regular patch-notes tend to be, I'm inclined to believe them. I'm still hoping against hope for an official 6-character party mode so I can just play with all the main characters at once, but that sadly seems unlikely. At least there's mods to enable that, albeit in a slightly hacky way.
Divinity: Original Sin 2 Definitive Edition will be coming as a free update to all existing owners of the game this August, presumably on the same day as its console launch.