Don't Starve Getting Multiplayer, Becoming Lord Of The Flies
Don't Starve Together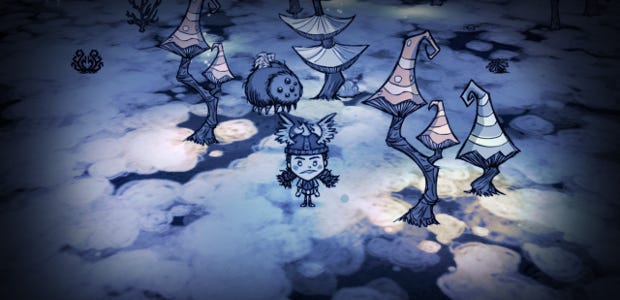 Don't Starve is an ingenious videogame title, if you think about it. It's catchy, a quick summation of your goal in the game, and utterly indispensable life advice. Don't Starve Together, then, is exactly what I'm going to tell my future children when I'm teaching them about the buddy system. I will follow that by handing them a copy of Lord of the Flies and saying, "Don't reenact this," before stranding them on an island for a couple days to find out which one is fit enough to be my favorite. Coincidentally, that's more or less how I expect Don't Starve Together to unfold, albeit with slightly less confusing advice given out upfront.
Klei announced that it's going to break its own (apparently very strict) no multiplayer rule to craft Don't Starve's first multiplayer expansion. Initially, the developer was adamantly against anything other than building the best single-player game possible, but it's now humming a different tune while stirring up a big ol' pot of pig person stew. Apparently new employees and a solid proof-of-concept prototype convinced Klei that collective un-starvation might be fun after all, so here we are.
Here's how it will work:
"Don't Starve Together is a multiplayer expansion for Don't Starve allowing friends or complete strangers to survive together, in either public or private games. As far as we know, it will have most of (if not all) the normal features in Don't Starve, balanced for multiplayer, and potentially even add new features."

"We believe that Don't Starve Together will support 2-4 players simultaneously. Could be more, but we are aiming for 4 minimum."
The expansion will be free to everybody who already owns Don't Starve, but the game will get a price hike up to $19.99 once multiplayer rounds out the package.
Don't Starve Together will open its cavernous maw sometime this summer. Its official launch will be preceded by a brief Steam Early Access period, just like what Klei did with recent expansion Reign of Giants.
So that's neat. Personally, I always admired Don't Starve's particular brand of unsettling solitude, but I'm sure plenty of people have gotten their fill of playing it that way by now. Who's ready to ruthlessly sabota-- I mean, be 100 percent helpful to their friends in order to avoid starvation?