Don't Starve: Shipwrecked Sails Into Early Access
New ways to die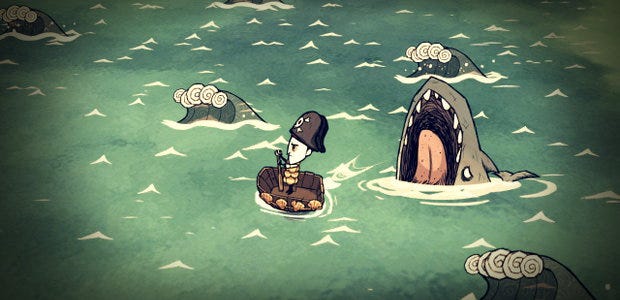 Exploring a tropical archipelago sounds ground, but it's never that easy in Don't Starve [official site]. Shipwrecked, the latest expansion for Klei's open-world crafty survival game, arrived last night with a boatload of new treats and threats in new lands. Also, boats! I don't know what drives you to place these sweet little computer people in such hazardous situations, you monsters.
Shipwrecked goes down on a new string of islands with new biomes, which survivors can travel between on wee boats. These new lands bring new creatures, resources, and 'orrible monsters. Of course they do. The sea itself isn't the friendliest character either. Shipwrecked is in Early Access at the moment, mind. The devs say it "is currently still in development, with plenty of features still to be added. There are some key features that we'd like to release (e.g. more characters, base game integration) before we officially exit Early Access."
It'll run you £3.59 on Steam right now.
Shipwrecked's made for Klei by Below and Superbrothers devs Capy, which is an interesting bit of collaboration. Expansions for AAA games were once commonly handed over to other studios, of course, but I dig the idea of small teams working with their pals. As Capy say, "What started as a friendly discussion between us and our close Canadian pals Klei Entertainment spawned a new challenge for our studio – make something amazing in our friends' universe." Bless.
Have a launch trailer: