Don't Starve Together Given Free To Original Survivors
Die with friends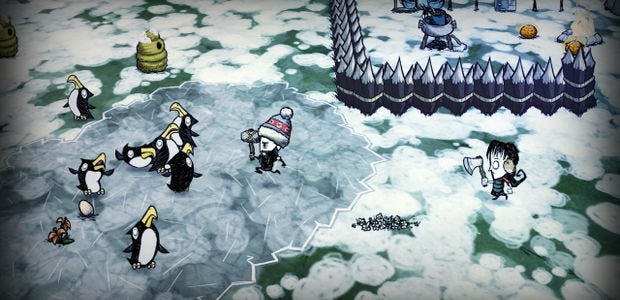 If you had survive 'em up Don't Starve [official site] before yesterday, congratulations! You now have the multiplayer expandalone Don't Starve Together too.
Developers Klei Entertainment had planned to give it free to existing Don't Starve owners once it left Steam Early Access to properly launch, but it seems they've got a little excited as they've now shunted it out to two million people (!) early.
Don't Starve Together brings multiplayer survival to the Don't Starve formula, building on the base game plus its expansion and some extras sprinkled on top. If you bought the original Don't Starve before yesterday, June 2nd, you should now have Together too. For edge cases of folks who bought but didn't activate Don't Starve keys or bought it on GOG, check the FAQ for the good news.
Next on the trip map for Don't Starve Together as it joureys through Early Access is adding the caves, which are proving a fair technical hurdle. That's why they decided to toss out the freebies while still in Early Access. Beyond that, they're looking at more character skins plus a whole lot more in an expansion-sized blast of content they're calling Through the Ages. Klei don't have a date or window for when DST will leave Early Access.
From now on, if you want to buy Don't Starve Together it'll cost you £10.99 for a bundle of two copies, £14.99 for Together plus the original Don't Starve, or £17.49 for those two plus the original's Reign of Giants expansion.
But gosh, two million players! And they're on top of the people who had paid for Early Access to Don't Starve Together. I knew the game had been successful, but didn't realise quite how so.