Don't Starve Together Survives Early Access, Out Now
Survival sidekicks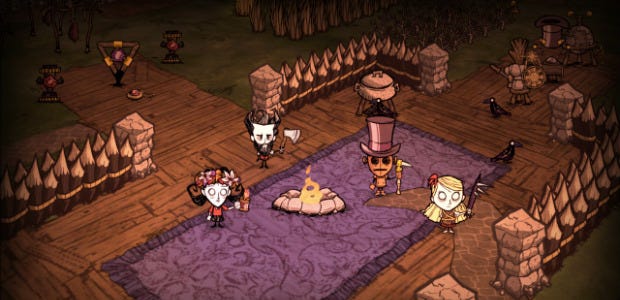 After a journey spanning close to a year and a half, Klei's buddy-boasting survival 'em up Don't Starve Together [official site] has dragged itself from the icy grips of Early Access, and has now crawled into the barren plains of full release. As Klei's longest-dwelling Early Access-er, the co-op standalone ships with the Reign of Giants expansion in tow, as well as a handful of new features - not least the debut of a long-awaited character.
Enter Maxwell, the master of puppets and all-round dapper chap that you might recongnise as the dude who advises players to start gathering food at the beginning of Don't Starve, before disappearing in a puff of smoke. Finally playable, his 'Guest of Honor' and 'Survivor' heads and clothing items have been added to Don't Starve Together's full release, so too has new craftable firepit cosmetics. A number of tweaks and bug fixes are now in place also, full details of which can be found on Klei's forums.
Moving forward, Klei now plan to turn their heads towards the multiplayer-oriented Through the Ages expansion. They say:
"Many moons ago, we discussed launching Through the Ages, and it got waylaid by getting to content parity. We felt strongly that getting to parity at our quality standard was the most important priority, and it took much longer than expected. We're finally here, and we are now actively working on new content. The team is breathing a sigh of relief that we get to build brand new content again.

"As a refresher, the focus of TTA is the evolution of your world over a longer period of time, and more variation between worlds. This will take time to develop...I'd say this is going to take about 6 months to develop, but uh, I've been off before."
Don't Starve Together is out now for Windows, Mac, and Linux on Steam at the discounted price of £7.36/10,04€/$10.04. Oh, and before you go, have a swatch at its obligatory launch trailer: