Dota 2: The Boston Major, Plus Fall Battle Pass Arrives
New England Fall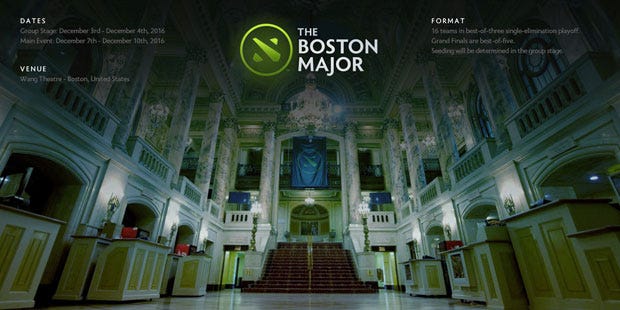 Dota 2's [official site] schedule for the latter part of 2016 will see pro players focusing in on the next Major tournament, which will take place in Boston in early December. Meanwhile, everyone else (and maybe the pros too) can take a peek at the latest battle pass if they fancy seasonal loot/cosmetics/competitive mini-tournaments.
I'm grouping these announcements together because there's an autumnal map reskin as one of the rewards of this season's battle pass and I associate Boston with that gorgeous, over-the-top changing of the leaves you get in the New England fall season.
Okay, so: The Boston Major. The Majors are those bigger LANs which Valve partners with third-party esports organisations to put on. The Majors now make up an official pro season of sorts for the Dota 2 calendar by offering these regular tentpole events for players. In the inaugural year two Majors were amazing, one was atrocious and The International, which now caps the Valve-sponsored tournament schedule, was probably the best it's ever been.
The Boston Major offers a $3 million prize pool and will be taking place at the Wang Theater in Boston, MA 7-10 December. For this one Valve have partnered with PGL who also handled the Manila Major. PGL always makes me do a double take because in the UK PGL is a company which runs holiday camps and things for kids and the acronym often gets translated as Parents Get Lost, although I think the company insist it's because of the founder's initials. The Boston Major also has a group stage which runs 3-4 December, open qualifiers 23-26 October if you fancy your chances, and regional qualifiers 27-30 October if you're looking for something to watch while you wait for the League of Legends Worlds final/do not care about the Worlds final.
Fall Battle Pass
The battle pass is what Valve switched to as a kind of longer-running event than the previous seasonal game modes and whatnot. It's this purchasable compendium of wizard challenges and fripperies that is geared towards expanding your experience of the game and your potential rewards for playing over a decent chunk of time.
Essentially you buy your way in (£5.59/7,99€/$7.99) and get a few digital presents right out of the gate, then you have access to other activities which can net you further rewards. There are things like quest pathways which have you complete certain tasks during a match and which gift you character outfits at the end, you also earn battle points as you play which levels up your battle pass and thus unlocks more presents like spell effects and cosmetics and the like. You can also earn tickets to participate in weekend competitive tournaments, wager battle points on the outcome of matches and so on and so on. It will also have an element dedicated to the Boston Major nearer the time of that competition so you can make match predictions etc.
Essentially, if you like Dota and play a decent chunk of it the battle pass is a nice thing to have as it can change up the experience a bit and offer nice time-sensitive rewards. If you rarely play it probably won't pay dividends, and if you're new there's a chance it might be utterly overwhelming.
One of the presents you get for picking up the pass at all is the autumn-themed terrain which is why I came to own it. I don't play much Dota right now at all - I watch more than I play - but I love map reskins. I actually have a day next week booked off entirely so I can go and see the autumn leaves at Kew Gardens, so a few quid for a similar seasonal marker in Dota felt reasonable. The only thing I'm sad about is that Roshan isn't wearing his Halloween costume. Perhaps that might come later?