Finally: Someone Mixed Dota 2 And Mario Kart
Blue greevil shell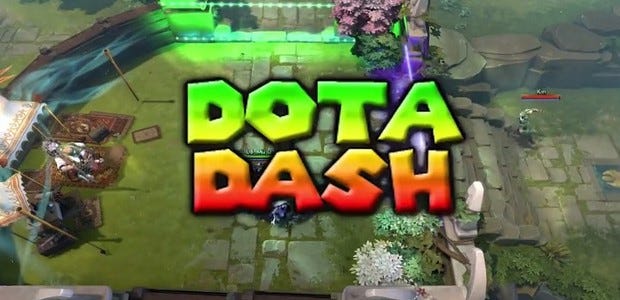 It's like they say, Internet gonna Internet. Thanks to a new and very good Mario Kart, kart racing is once again all the rage these days, and Dota 2 is more popular than all the cool kids in high school put together. What happens when you combine the two? It's called Dota Dash, and it looks like it works maybe a little. Apparently, however, there's still a whoooooole lot of work to be done. Video below.
You can try the mod for yourself right now, but it's still quite early. Here's a quick description of what you're in for:
"A fast-paced Dota 2 racing game meant to feel like Mario Kart. Race with fast-paced sliding controls! Use greevil shells to blast your enemy! Drop banana peels to send your enemy slipping!"
Fun idea, right? But apparently things like movement and basic systems are still very early, and there was a lot of recent drama over the map seen in the above video. The short version is, it will be replaced by an all-new map made by the same person who designed that one, just without any pseudo-legal issues tangling it up. Meanwhile, the mod's creators are also working on making the basic Dota 2 map race-worthy, driftshape, etc.
You can also expect a "campaign" system for playing multiple maps in the same session and dev tools for those who'd like to design maps for this mod or expand on it.
This whole thing is a rather unexpected development, but a welcome one. I mean, who wouldn't want to live in a world in which it's possible to say Mario Kart is an excellent tutorial for Dota? I've precision-hurled so many banana peels that I've probably been eSports-ready for years without knowing it.